Hailing from Tulsa Oklahoma, 3Mind Blight had humble beginnings in the late 90's, with Boom Bap Rap and the Grunge Rock scene. After leading several bands and many production teams, what started as a hobby has led to a full time music career in production, instrumentation, and artistry, mixing rock, rap and instrumentals. When I decided to listen to a couple from his catalog I knew nothing about 3Mind Blight or how authentic his musical thing was. I took a risk and am so pleased I did. He delivers a set of songs that begs for absolute silence while listening to it. You need to put on your best pair of headphones or break out your stereo system and bring out the full dynamic quality of each song. This music is just completely coated in a haunting, grungy atmosphere – whether 3Mind Blight is rapping or singing.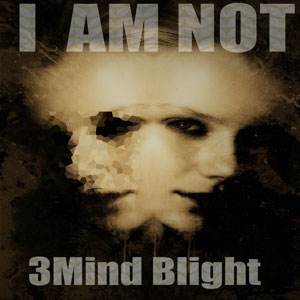 This especially applies to the artist's latter releases "Paranoia" and "I Am Not", which together offer that perfect mix of what one may call 3Mind Blight's signature sound, with its very eerie and foreboding tone that permeates these entire arrangements.
With a track as strong as "Paranoia", 3Mind Blight prove that he can look back to the past grunge sound, but he doesn't have to live there. The present suits him just fine, as he weaves in banging hip-hop drums, finely orchestrated strings and whiskey-stained angsty vocals that look, unflinchingly, at the darkest parts of our souls.
"Paranoia" contains a rich level of songwriting that draws from softer tones to create a song that is both impacting and brimming with expression and depth. It is a masterpiece of modern songwriting that brings grunge into today's edgy urban musical climate.
It's a song that rests on the beauty and haunting nature of 3Mind Blight's dual rap and vocal lines that are both simply stirring. It is a truly epic motif overflowing with a sense of darkness as 3Mind Blight traverses an eerie and open verse followed by an emotionally heavy chorus – anchored by a sense of disturbed anger – making for an exceptional song.
"I Am Not" once again proposes the intricately designed strings, the rolling basslines and throbbing percussion, but vocally follows a melodic path. This sounds like 3Mind Blight totally in his element.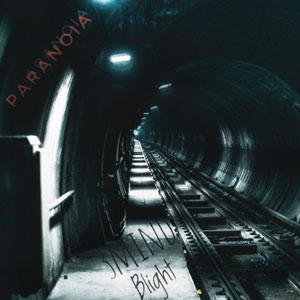 Almost as if he needs further justification, 3Mind Blight proves to be as crucial and essential to the course of restoring grunge to modern rock now as the movement was unto itself during the '90s. Except for one major difference. There are no sludgy over-driven guitars or dirty, swampy bone-crushing riffs and power chords to be found anywhere.
Yet that doesn't in any way affect the resulting overall sound.  "I Am Not" is a great example of an artist who know his strengths- and most of the time- can play to them very, very well. Wicked, haunting vocals, great instrumental interplay and fantastic string work, bring that same ominous and premonitory dark rock sound.
When listening to 3Mind Blight, a couple of things are strikingly apparent. The first is that his catalog of music is a consistent listen of solid, alternative rock songs that at times dabble in the rap idiom.
The second is that 3Mind Blight is committed to the mastery of his craft, working with all the latest technology, while never watering down his passion for the styles of music that came before. In 2018 and with the state of rock as we know it today, it's wonderful to see a project like this bring a fresh hybrid style to the table which mixes both the classic and the new.
OFFICIAL LINKS: MUSIC STREAMS – FACEBOOK – TWITTER
Please follow and like us: