"This is one artist to watch, for sure… Soran proves his undeniable talent with his genre-bending soundscape." – Notion
"Canadian supernova of talent. His voice is absolute perfection" – Wolf in a Suit
"Using his personal experiences and emotions to bolster his music is the key to Soran's evocative tunes…a craft that showcases his true ability as a storyteller." – Earmilk
(TORONTO, ON) – Today singer-songwriter Soran reveals his new single, the honest and confessional 'Way Up'. Following on from the cosmic 'Space Boy' then the electronic alt- pop, sad bop 'Tired', 2021 saw Soran truly come into his own. Showcasing songwriting that oozes with honesty and an authentic confessional style narrative, piece by piece, Sorans unique puzzle is slowly slotting into place, revealing a story like no other.
Continuing to unveil his explorative concoction of alternative RnB, Lo-fi, spacey electronics and buttery soft vocals he now presents 'Way Up' via Universal Music Canada, the country's leading music company. Fuelled by emotion and tinged with sadness, 'Way Up' stands as a courageous and moving beacon of hope. A push to keep going, a life jacket for those who may feel engulfed by the waves, Soran urges the listener and himself "I swear I'll keep my head way up. I'll keep on trying."
The tragic loss of Sorans mother continues to surface in his songwriting, but not always in the way you might expect. Each single is a true homage to their relationship and her memory. It's almost as if Soran is sending a direct message to her through his music, which at times is heartbreaking but it's also such a beautiful means of communication and a highly intimate part of himself that he is openly sharing with his fans. 
"'Way Up' is written by a future me talking to a present me about how I got over the pain of losing a loved one," 
Soran invites his listeners in, in a way unlike any other, showing and sharing pieces of his Mother within his songwriting and therefore also directly with his fans. With each release her memory continues to live on and although she may not physically be here to be able to share in Sorans successes, she is an integral part of him and is carefully and beautifully interwoven into the art he is creating.
"It's ironic, because I'm doing all of the things that she wanted me to do now, but she's gone. It sounds like me, yet so much of it is my mom. I find a way to celebrate her in every song."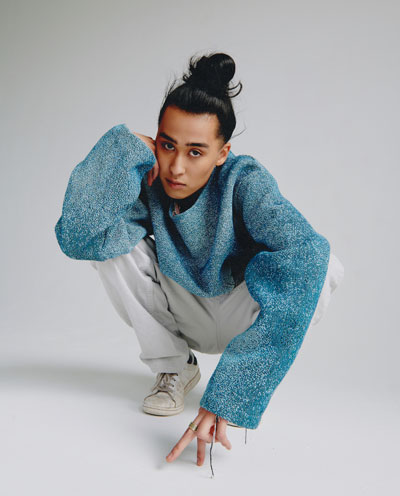 The Montreal-based artist also announced he'll be getting back on the road joining Wild Rivers on the Western Canada leg of their tour. (New Tour dates tbc)
Website | Facebook | Instagram | Youtube | Tiktok | Twitter | Spotify
More about Soran…
The moment an artist realises his musical capability resembles the moment a superhero embraces his power once and for all.
After quietly buzzing, Soran has grasped his destiny as a singer, songwriter, producer, and multi-instrumentalist. Now, the Montreal-based half-Japanese and half-French artist architects a new vision for pop and R&B uplifted by interdimensional soundscapes and irresistibly infectious hooks. Blasting off independently with tens of millions of streams and views, he has truly taken flight on a series of singles for Universal Music Canada and his forthcoming 2022 debut.
"My superpower is making music," he observes. "I'm incorporating my artistic inspirations from R&B to Pop and my heritage with Japanese moods. Everything has really aligned, and the music is just Soran."
Music always surrounded Soran. His father played multiple instruments and kept drum sets, guitars, bass, and a mini-keyboard in the house. Meanwhile, Mom worked as a journalist for Japan and enrolled him in Japanese school until the age of twelve. Along the way, he learned three languages—English, French, and Japanese.
During a high school field trip to New York City, he bought a guitar from a homeless man, practised constantly, posted videos to Facebook, and busked for a year-and-a-half at subway stations and on the streets. After making waves on La Voix (The Voice) in Quebec, he gained traction with his six-track self-titled EP, playing every instrument personally and generating 10 million-plus streams. Simultaneously, he lent his voice to HENRI PFR's "Going On," picking up a gold certification in Belgium. He reached viral impact with the likes of "IG Comments Song" in addition to clocking 15 million streams by featuring on "Julia" by GAMPER & DADONI. Soran maintained his momentum in 2021 with "Bottled Up" before catalysing another creative evolution inspired by everyone from Frank Ocean and Kanye West to his "favourite band of all-time" The Police.
"I love writing and producing," he leaves off. "I really just want to create a sound you'll recognize as mine. I'm just a kid who's making music, but it's my calling card. There's so much people haven't seen from me yet. I'm excited to show more in the future."
About Soran
Born on the south shore of Montreal to a Japanese mother and a French father, Soran grew up surrounded by his father's musical instruments, on which he could begin to experiment and learn. Soran initially gained a strong fan following from posting covers and originals on social media and his fanbase only grew stronger after appearing on La Voix in Quebec. In 2016 Soran signed with Audiogram and released his single "I Wish." Soran went on to release a six song EP in 2018 on which he played all the instruments and co-produced with Connor Seidel  (Matt Holubowski, Elliot Maginot, Charlotte Cardin). The EP's songs have garnered over 10 million streams globally. The Summer of 2019 saw Soran collaborate with popular Belgium DJ, Henri PFR, on his summer single ''Going On", which is certified gold in Belgium. In September 2019, German DJ duo, Gamper & Dadoni, released a remix of Soran's 'Julia', which further introduced Soran to new fans. Soran is back with new music via Universal Music Canada.
Please follow and like us: