A one-of-a-kind approach to contemporary hip-hop
Queenie is an artist focused on capturing the energy of modern hip-hop while remaining true to the genre's golden age. What makes her sound so special is that she ignites her beats with a lot of personality. The artist is a natural-born storyteller who knows what it takes to make music with emphasis and impact. Each song she performs has energy to it. It feels like with every release, she can set the bar much higher in terms of production excellence and connecting with people on a much deeper level through her musical chops.
Recently, Queenie announced the release of a brand-new project, "Man Made." This bold, creative statement highlights the unique vibe of the artist's lyrical flow. As they say, some of the best rappers in the game are natural-born storytellers. This is most definitely the case with Queenie, who can offer a gripping lyrical flow and unique lyrics from the first word to the last.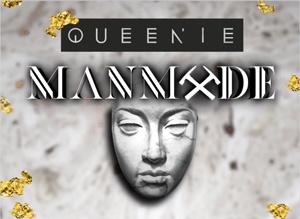 The way she comes up with lyrics is truly masterful, and there is a total sense of intentionality, which highlights the quality of her raw talent. "Man Made" has a direct sound that's not about chasing trends. It's all about making things happen with a more authentic flow and a one-of-a-kind dynamic approach that makes the artist's personality stand out from the herd and all the clichés. Musically, the beat has a lot of energy, and there is an element of grittiness to the rhythmic components (i.e., the drums), which bring forth a more organic and warmer vibe. The melodies accompanying the vocals are quite natural and understated, so they do not overpower Queenie's lyrics and delivery but rather prop it up and highlight its qualities throughout this track. The balance between the instrumental sections and the vocals is excellent, and it is not always easy to find songs that are so deeply nuanced and characterful. Thankfully, it seems that Queenie truly managed to uncover the winning formula here, and it is a true payoff, sonically.
"Man Made" by Queenie is highly recommended to fans of artists such as J Cole, Kendrick, ghetts, Fivio Foreign and Lauryn Hill, , to mention a few. However, it is not always easy to compare Queenie to other artists because she stands alone in both approach and delivery of her music. On the contrary, she is proudly carving her path in the music world, and she is quite successful at it!
Queenie is a true artist. With every release, she keeps setting new standards of skill and quality, and we look forward to what else she has in store for the future. Find out more about Queenie, and listen to "Man Made." This release is available on all digital streaming services from August 18th, 2022.
Connect with Queenie:
Instagram: https://instagram.com/queeniesaidso?igshid=YmMyMTA2M2Y=
Twitter: @Queeniesaidso
YouTube:  https://youtube.com/c/QueenieSaidSo
Please follow and like us: