International Hip-Hop artist NatStar releases his latest single "11". A musician, producer, songwriter, and performer who blends Hip-Hop, R&B, & Soul, NatStar has already worked with the likes of Ski Beatz, Brandy, Camp Lo, Loon, Polish Pop Singer Gosia Andrzejewicz and more. He has expanded his reach beyond the US, gaining fans overseas in Singapore after a 6-month tour, Poland, Switzerland as well as Senegal, Africa after headlining the Dakar Hip-Hop Festival. NatStar has amassed over 4,000,000+ streams on Spotify, matched by the 2,000,000+ views he has accumulated on his YouTube channel and its continuing to grow daily.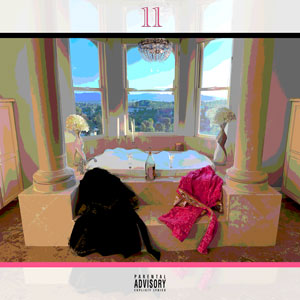 "11" gives you the sense of the artist. The confidence and clarity in which NatStar crafts and presents his musical identity is something you would expect from a first class artist. The track never seems to falter in what it wants to express and the entire thing is like a breath of fresh air, authentic despite the heaviness of the beat and the depth of the sounds and layers. The lyrics too, are down to earth, effortlessly designing a version of the world from NatStar's perspective.
NatStar constantly changes flow, moving effortlessly from sharp bars to bubbly phrasing to soulful crooning–all in one song. When compared to uninspired rap and R&B sounds that some have come to believe is representative of the entire genre, "11" serves as a reminder of the fresh air and creativity still out there. NatStar frequently bends his words to create unique rhymes and packs his verses tightly with clever wordplay.
This track from NatStar, is one to get your hands on. Its production is incredibly put together. The shimmering guitar-driven atmosphere and smooth rhythm on "11", is sure to pull you in, wanting more. NatStar is a perfectionist and is very aware of every element he places in the record. This you can hear by the cautious layering of sounds throughout the track, the emotion-eliciting lyricism, and of course his flow. It is his vocals which ultimately add the emotional depth that keeps you sinking deeper and deeper into the expanse of your own mind.
Follow All Music Streams Here: https://song.link/i/1609369818
Please follow and like us: