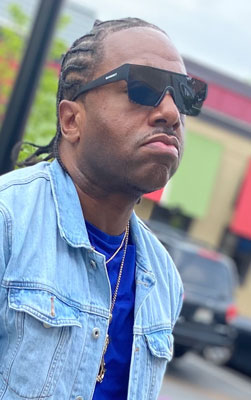 Manny Man is an Artist and Producer from Baltimore Maryland. He has worked with Pastor Troy, Wave KD, DJ Beautiful Perfection and other notable artists recently. My inspiration for the song ride comes from me taking bits and pieces from my own personal story of betrayal and linking them up with my brothers story. I wanted to talk about the pitfalls of taking a loss at first and then making a comeback.
Having the lights off in my studio and being able to vibe allows me to dig deep into my lyrics and beat creation. When my friend Yung Coke sent me a pack of beats I can come up with ideas on the fly and be able to freestyle the ideas in the booth and jot them down. Just a combination of having an idea and personal accounts and great music helped inspire the song.
What makes me unique and different from other artists is me being able to make my own beats, rap and record on them. I'm kind of a throwback artist. I think lyrics and delivery are crucial to setting the tone of a song. I want people to have to think hard about what I'm saying either in third person or by using a lot of slang but still staying on topic. Plus being able to tell a story is a lost art. I like to bring that back into my music.
OFFICIAL LINKS:
Instagram
https://www.instagram.com/mannymantwv/
Spotify
https://open.spotify.com/artist/3MryInDPTUCIqVaYve1RXW
Soundcloud
https://open.spotify.com/artist/3MryInDPTUCIqVaYve1RXW
Youtube
https://www.youtube.com/user/yungmannytwv/featured
Please follow and like us: