Julie Tang has one of those voices which aim straight to the heart. In her latest song "Sunrise", she manages to sustain a level of emotion and passion throughout. The music utilizes the perfect blend of her head and chest voices, which has a touching ethereal fragility at times when she moves into a glass shattering falsetto. However, this should not lead one to think that she does not have the chops to displace vast amounts of volume.
Julie Tang meanders through a crossover blend of classic and pop, and on "Sunrise" she uses a bare-boned approach with just voice and piano. Julie's vocals are usually high and sweet here, lending a fragile edge to the simple yet sprawling piano arrangement. As a listener unfamiliar with her previous work, I was delighted to "discover" this talented Los Angeles vocalist.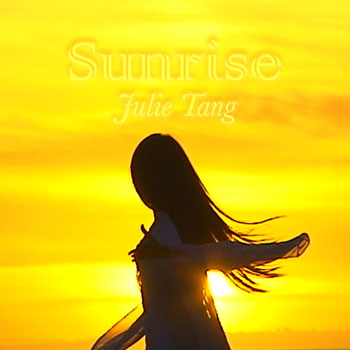 However, if there was one department where she could benefit, in my opinion, it would be the production. I think Julie's voice should be supported by more layered and epic musical arrangements in the style of Enya, rather than just the solo instrumental accompaniment. But it obviously depends on how mainstream she feels she wants to be.
On the contrary though, it is also true that on "Sunrise", Julie does not have overpowering orchestrations that drown out her performance, which allows her to utilize her vocal chords as they should be used, with some restraint and purity, and without the 'diva' yelling used by many nowadays. The experience of "Sunrise" will infiltrate your auditory spirit. The feeling is so delightfully ephemeral that one remembers almost with nostalgia similar past vocal ecstasies encountered. The song draws its listeners in through intrigue and beauty rather than any obvious ploys for attention, as Julie Tang does nothing out of place or superfluous.
There is no question that Julie Tang is talented. But, her music is not yet as widespread as her talent deserves simply because her style is under the mainstream radar. There probably is not a single genre to place her in currently. There are aspects of her music that are pop and there are classical inspirations and operatic finesse infused into her sound as well. Like a breath of spring her music carries you to a secret garden where there is nothing but the scent of flowers and the warmth of the sun…here everything is possible!
OFFICIAL LINKS: REVERBNATION – FACEBOOK – TWITTER – INSTAGRAM – ITUNES
Please follow and like us: