Myss UneeK is a poet that embodies the literal meaning of her name and the true concept of poetry and slam poetry. UneeK's poetry shows off her passion for kids in foster care, life struggles, and sexual abuse. UneeK has won three poetry slams and only recently added her fourth slam win. She participated in BRIC'S Brooklyn Poetry Slam on Monday, October 21, 2019, where she won the slam. There were six participants in all and two rounds as normal in the Brooklyn Poetry Slam. Myss UneeK's poem was titled 'Kids'. It was passionately delivered, and it centered on the struggle of foster kids or children who have experienced troubled homes. Her spoken word told a touching story of the typical life of kids born only to be given off to foster care or made to suffer a lack of parental care while their parents lived with them more focused on drugs and themselves. UneeK has written poetry since she was a child and this fourth slam win is yet another milestone on her path as an outstanding and earnest poet.
Poetry Slams are a break from the norm. They were created to be loud, lively, passionate, and dramatic. The Brooklyn Poetry Slam at BRIC does not fall short of the true ideals of poetry slam. BRIC has always stood for celebrating artists and media-makers who reflect diversity. Their programs like The Brooklyn Poetry Slam reaches numerous people every year. The Slam has being a part of BRIC for the last 5 years. The rules of the slam currently comprise having two slam rounds with each poet having three minutes to speak. The five poets with the highest score move on to the second round and afterwards the poet with the highest cumulative score is the winner. On October 21st one of such winners was Myss UneeK.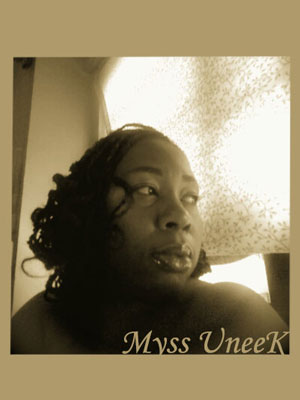 What prompted you to begin writing poetry?
Myss UneeK: My grandmother died when I was 7 yrs. old so I wrote my first poem at her funeral. I didn't tell anyone till I got to school. I showed my teacher the poem and the next day I performed it for the whole school. When I saw I could make people feel, and cry, I was hooked.
Why is poetry important to, and also to the rest of us?
Myss UneeK: For myself poetry is everything it is my way to communicate what u2m feeling with the world. It's always been my way to express myself.
How does a poem begin for you, with an idea, a form, an image, or a direct experience?
Myss UneeK: All of the above, it can be anything, life inspires me.
What conditions help you with your writing process?
Myss UneeK: It just depends on what I'm writing and how much inspiration I have. Some poems I can finish, some take months, while others take years.
Where do you write most often?
Myss UneeK: On the bus traveling. Sometimes I jump on the bus and just go travel to a strange city, explore and then just come home.
What is the relationship between your speaking voice and your written voice?
Myss UneeK: It's the same, my voice really depends on my mood and the poem I'm reading.
What do you see as the major role of your poetry?
Myss UneeK: My role is always say what I'm feeling and keep my poetry honest.
If someone has never heard your poetry, which keywords would you personally use to describe your overall style?
Myss UneeK: Raw and Real. I love to curse so if some places are family friendly, then of course I won't but I like to be in a room when everyone's poetry is sweet then I will get up and shake up the room. One thing I always hear is, I never disappoint.
What has been the most difficult thing you've had to endure in your life or writing career so far, and how did you overcome the event?
Myss UneeK: Speaking about everything in my life, from my mom being on drugs to my dad not being there, being homeless, molested, I try to be an open book.
What would you consider a successful, proud or significant point in your writing career so far?
Myss UneeK: I feel like everything I do makes me proud from the smallest stage to the largest theatre. I'm always happy people are giving me the time to share.
Could tell us more about The Brooklyn Poetry Slam at BRIC, and your victory there?
Myss UneeK: I want to say the BRIO was great I wasn't trying to slam I honestly didn't know about the slam till I got to the event. I was honestly going to do the open mic. I asked another poet about the event and his exact words was if you have never been here before stick to the open mic. Which was funny because I've won several SLAMs including at the world famous Nuyorican poetry club. So once I heard that, I signed up for the SLAM and won without even trying.
How did your award/winning poem "Foster Kids" come about?
Myss UneeK: 12- I was 17 when I wrote the poem. I was in foster care still struggling with that system and I felt that foster care was never being addressed. I got contacted by Def Poetry Jam so I wrote it for that show, but once Def Poetry Jam contacted me to do the show I just couldn't I wasn't at a point where I was ready to share so I learned stage presence and I just walked into a SLAM which again I didn't know I was performing at a SLAM. I just knew I was ready to read, and I won at the Nuyorican.
How do you handle criticism and/or naysayers in general? Is it something you pay attention to, or simply ignore?
Myss UneeK: I have never been criticized pertaining to my poetry no one has ever told me what to say or how to say anything. So I guess I'm lucky I haven't had to face any of that. Poetry gets treated differently it's not like rap or comedy people know. There is a level of respect, and in my experience criticism has never been a part of my experience.
What is your relationship with visual and audio media? Do you think video and music are good vehicles for your poetry, and do have a video clip or song you would like to recommend that fans watch?
Myss UneeK: Yes I think it's interesting I have a poem called Class Lesson 100 on YouTube that has music and I just won a SLAM in NJ at Rutgers with it ​https://youtu.be/IAdo1_emNHc
Do you have a writing group or community of writers you share your work with? Who are they?
Myss UneeK: Yes the Irish Writers Salon all the writers are great and very encouraging.
What's your view on the role and function of poetry as political, cultural and/or social vehicles – and has your idea of what poetry is, changed since you began writing poems?
Myss UneeK: I feel like poets should know there work I'm tired of seeing poets reading off paper and there phones just like we expect singers and actors to know there stuff we need poets to make more of a connection with their audience.
What scares you the most about the world we currently live in?
Myss UneeK: Nothing Scares me I always have high hopes.
Tell us about your process: Pen and paper, computer, notebook, smartphone… how do you write?
Myss UneeK: I'm an old school writer pen and paper
Who are your favorite poets?
Myss UneeK: Emily Dickinson, Walt Whitman, and Edgar Allen Poe.
What do you find most rewarding about what you do? And do you have a specific vision or goal that you would like to achieve through your work, in the near future?
Myss UneeK: I love what I do, and only hope to generate big money like comedians. I went to sell out stadiums and Madison Square Garden.
OFFICIAL LINKS: FACEBOOK – YOUTUBE
Please follow and like us: