At the age of 28, Allyson Glado is a colorful artist. She has achieved a feat by writing twenty songs original sounds in just 8 months – from twirling reggae, to Pop and right to through to soul – all mixed with deep lyricism and sometimes even with an erotic twist. Allyson stands out not only for her creative style but for the passionate energy which she passes on to the audiences which attend each of her concerts. Currently building her brand with live performances, radio play and stunning video clip releases of her songs, Allyson Glado is also busy working on her upcoming EP.
How long have you been doing music and how did you get started in the first place?
Allyson Glado: I am anxious to thank you for this interview. And well, here we are. I've been making music for a few years, and then one beautiful day, I said to myself! I want the Olympia! And I want to return happy people! Then I dashed and here I am.
     2. Who were your first and strongest musical influences that you can remember?
Allyson Glado: I was influenced, by the artist Nuttea, whose lyrics touched me, as well as James Brown, for his incredible scenic side, if you want! I was rocked all throughout my childhood, by the music of my dad, who made me discover many things, and gave me love for the music.
Which artists are you currently listening to?
Allyson Glado: At the moment, I listen to Naaman's last album which is a reference for me, with its positive colors!
Are there any of these artists you would like to work with. Like maybe singing a duet?
Allyson Glado: Yes!!!!!! I dream to work with an artist like Tiken Jah Fakoly, who made up and writes lyrics with deep messages! It's something rare nowadays! And then why not Rihanna, on the international stage! That would be cool!
How do you feel you separates yourself from other upcoming recording artists right now?
Allyson Glado:  If I had to distance myself, I would say my eccentric side, I like messing around and sharing with the public – the concerts, it is a big party of fun, and it is there that I make the difference, not to mention the musical side of my work.
Have you had any formal musical training, or are you totally self-taught?
Allyson Glado: I am a self-taught artist, but I have had a theatrical formation because in my former life, I was a tragic actress!
How do you handle naysayers, haters, and criticism in general?
Allyson Glado: What I hate, and well I would tell the lie, we were structured in a company enough … complicated, and sometimes, we lock ourselves into bad energy, and we begin lying, for us go out of it, except, ca leads nowhere, the truth hurts but it deserves to be heard!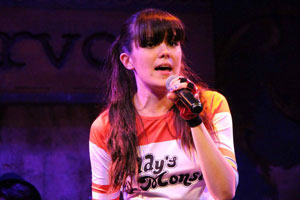 What do you consider a really successful or high point in your career so far?
Allyson Glado:  I cannot say for the moment. I had a big turning point in my career, because my first purpose is the Olympia, but the meeting with my trumpeter Serigne Diagne was a beautiful light for the continuation of this path which I have undertaken.
How are your songs developed? Do you handle all the processes from composition to recording, and producing the music, or do you collaborate with other creatives?
Allyson Glado: Yes I compose in the peace of my home, writing when my heart asks me to. Later I take off to my arranger, El Speaker! And yup, we have a song!
More than anything else, what do you feel your listeners should get out of your music?
Allyson Glado: Oh, I receive many messages on the social network, telling me that my lyrics are strong I am delighted, I work hard so that it continues to be that way!
What has been the most difficult thing you've had to endure in your career so far?
Allyson Glado: I had a moment of doubt when I had to make a choice between my career in the theater or in music, my heart hesitated then it eventually chose by itself…
If you had the opportunity to change one thing about the music business, what would that be?
Allyson Glado: I would move well in hired killer, there is something very exciting there inside!
How do you market and manage your music career? Do you have a management team or do you control everything by yourself?
Allyson Glado: For the moment, I work with a small team, because I intend to develop my international label BOVEM music, I am small one business manager to myself only!
What does your family and your loved ones think of your artistic aspirations? Do you have their full support?
Allyson Glado: My family is me, it is the holiday all the time! Yes they support me, every day, and cross fingers so that things move forward! And it's good. I appreciate them.
If someone has never heard your music, which keywords would you personally use to describe your overall sound and style?
Allyson Glado: To define me in brief: MADWOMAN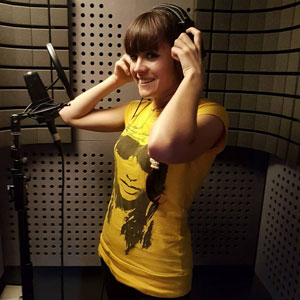 Do you consider Internet and all the social media websites as fundamental in building a career in music today, and what is your personal relationship with the new technology at hand?
Allyson Glado: I have to answer yes, the social networks have become essential! Though it's unfortunate… because Molière is turning around in his grave … as the literature gets lost.
What is currently the title of your favorite song in your own music catalog, and why is it special to you?
Allyson Glado:  I very much like the title RASTAMAN by Protoje and Mr K.Marley, which came out in in 2011, and I find that the song's outstanding sound, is deadly!
Are your songs predominantly focused on personal real life experiences or imaginary concepts?
Allyson Glado:   I already imagine the concept of peace in the world through stages which I develop by mixing the styles, and the cultures. That opens a new perspective of future in France.
You have some excellent quality videos? How do you go about producing them? Do you have a big budget or some other tricks you could teach indie artists who usually make poor videos?
Allyson Glado:  I cannot reveal the budgets for my video clips, it's a secret. Now I work with somebody talented like EAZYPLAY who has collaborated with numerous artists, and who is worth seeing, go find his channel on YouTube.
I see that you are also an actress with quite a few credits to your name. If you were forced to choose only one road to stardom, would it be acting or singing?
 Allyson Glado:  Between acting and a career in music, my heart has already chosen music, though my stage name comes from my grandfather Albert Glado who was a comedian, who also played alongside Michelle Morgan.
OFFICIAL LINKS: FACEBOOK – YOUTUBE
Please follow and like us: