The Valium is a five piece rock'n'roll band from Salerno, Italy consisting of Marco Sabino – Vocals, Luigi Sabino – Guitar, Luca Maresca – Guitar, Mariano Lepore – Bass and Davide Maresca – Drums. Since the debut with Warner Chappell in 2010, the band has been recognized as one of the founders of New Beat – music genre merging classic rock, garage punk and power pop influences with Italian 60's rock vibes. The Valium have toured all around Italy for years and have been noticed through songs like 'L'Infedele', 'Lucienne', 'Io Sono un Punk', which gathered massive success and were aired on radio and tv shows. In 2015 The band switched to singing in English and have set their sights on touring Europe and conquering the world.
In the meantime, The Valium has released a cover version of The Beatles song, "In My Life", from the Rubber Soul album. The impact of this 1965 album was incredible. The earliest recorded of the 5 great Beatles albums (Revolver, Sgt. Pepper, White Album, and Abbey Road are the others), Rubber Soul was the recording that invented 'album rock'. This was the first rock album recorded for its own sake, without any Top 40 hit singles to back it up (Nowhere Man did not appear on the U.S. version). The songs "Girl", "Michelle", and "Norwegian Wood" each got massive radio airplay despite never being released as singles.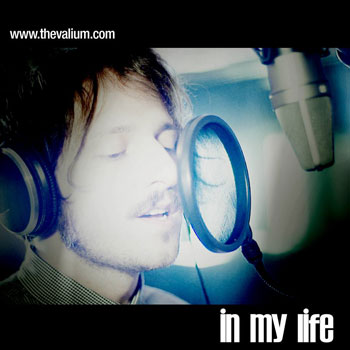 Before Rubber Soul, most albums were junk, consisting typically of one or two songs that were Top 40 hit singles with the rest being throwaway filler tracks. Thanks to Rubber Soul, rock artists for the first time got serious about recording albums as works of art rather than just another way to make money. If you could take John Lennon's work from Rubber Soul and combine it with Paul McCartney's work on Revolver onto one album, you would easily have the greatest album ever made. However, having said that, just about everything on Rubber Soul is superb, but my favorite songs here are "Girl" and "In My Live". Tinkering with any of these songs takes a courageous heart and a very skillful hand. Most bands that cover any Beatles songs either clone them or butcher them!
Enter The Valium, five lads from Italy, who knock it right out of the park with a quality cover that is amazing when you consider the context in which the song was first released.  "In My Life" is not all that well known, being a simple album song and not a 45rpm single, but it's a classic song which still sounds as new and original in the year 2016 as it did in 1965, thanks also to a breathtaking reworking which does not try and clone what came before it, but rather builds on top of it.
The Valium, working together on all cylinders, fires intensity, emotion and vitality into a song which John Lennon had already infused with sweet, deep, and poignant meaning. This version of "In My Life", leaps into your ears upon first listen, and transcends the original classic sound of 1965 with a completely modern take, surpassing anything else that anyone has come close to perfecting in covering a Beatles song prior to this. The Beatles broke a lot of their stereotypes back in the day, with the album Rubber Soul, and showed that they could make music that wasn't made simply for girls to scream to. The Valium, achieve exactly the same effect with their truly impressive version of "In My Life". Though a cover, it is an artistic statement simply impossible to ignore.
OFFICIAL LINKS: WEBSITE – FACEBOOK – TWITTER
Please follow and like us: