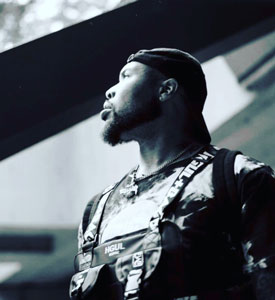 Grizzy Wynter is a Jamaican-Canadian hip-hop and rap artist, actor, podcast host, and businessman.  His notable accomplishments so far, include winning best international artist at the 1st annual binge TV awards, and being nominated for record of the year at the 2021 Wavy Awards by Divinity Roxx.
With four fully released projects since 2012, Grizzy is on fire. The co-owner of For The People 778 Clothing (based in Vancouver, BC), he also has a podcast is called "The Plain Disrespectful".
​Grizzy Wynter is a leader for independent artists in the Northwest, by consistently releasing music, bringing artists together, and organizing events, to showcase the diversely talented black and minority artists that exist within his city. Grizzy Wynter is determined to bring his community to the front of the line.
OFFICIAL LINKS:
www.GrizzyGangentertainment.com
www.Instagram.com/_grizzywynter
www.Instagram.com/grizzygangent.com
https://musaic.bio/grizzy-wynter
Please follow and like us: