It's a bright winter's day in a coastal town fifty miles south of the state capital. In a large converted garage in a back garden with a view of the Southern Ocean a father of two walks me through his studio set-up. It is an avowedly personal space, (old gig posters, piles of CDs, coffee mugs), and without obviously meaning to it says something about the record that is being sketched out here. For Matt Cahill has finally landed in a place called home; geographically, in himself and his music.
As the man behind the Australian indie ensemble Evoletah, Cahill is ready to admit that, at fifty, he has only just discovered a truly fearless voice. This not only reflects the maturity of years but the experience of three decades in the biz. "I guess there are a whole stack of reasons why I got into music and, as a young man, not all of them were about writing great songs," he confesses.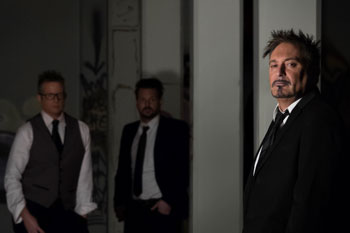 These days, Cahill is a multi-project collaborator, lending vocals, guitar, percussion and studio wizardry to pop outfit Late Night Trade and the critically acclaimed avant-electro duo The Quiet Room. However, it's fair to say that Evoletah, the project he began back in 2005, is his main musical focus. Indeed, the delicate piano driven songs he's playing me today are slated to make their way onto the band's upcoming fifth album.
Yet, despite the critic and fan gush afforded the band's previous release, "We Ache For The Moon", Evoletah came close to folding. This time last year Cahill was a moment away from ruling a line. "It's easy to think that these things just happen, that music gets made in some kinda bubble but a band is a bunch of people with lives, with issues, with other stuff they really wanna do, and so sometimes it gets to a point where you think 'why the hell am I doing this?' I mean, it's not as if the world exactly needs another Evoletah record."
So what's the motivation? Listening to demo tracks like the misty, Satie-esque "Sleep" and the brooding "Everyone But Me" you hear an artist free of distracting ambition and fears of rejection. As Cahill observes, "I'm making these songs because I want to hear this kind of music. Even if in ten years time I end up not liking them I'll know that I made them in a really honest way; with no second guessing or trying to be someone I'm not."
Looking around Matt Cahill's studio, watching him interact with his kids and help his wife sort the day's practicalities, there is a distinct lack of ceremony. It's as though the ordinariness of it has allowed the arty tendencies that have always lurked in his composition and vocal delivery to come to the fore.
"I know," he observes, "having a wife and two kids and a three bedroom house is about as un-rock as it gets; but then when I look at them I think, 'what possible reason do I have not to go all out in the studio?'"
In that spirit, and much in the same vein as David Sylvian and Jason Swinscoe, Cahill is now very much the director, recruiting collaborators he believes will help the songs take their best form. On "Moon" it was the jazz tinged vocals of Katie Underwood, this time round it's the dextrous piano of Benjamin Johns and the textured bass of Michael Shanahan, (who also featured on 'Moon).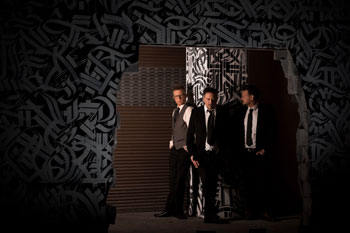 Like Cahill and Shanahan, Johns sprang from the indie circuit in Adelaide, South Australia; a small, tightly bound community isolated from the Australian industry's east coast hub. They first worked together in the 90s when Cahill's former band The Violets were at the peak of their award-gathering, pundit pleasing career as alt-guitar darlings. Now, twenty years on, they are ensconced in Cahill's 'audio garage' making a record that sounds more like nineteenth century literature than skinny jean wearing, fx pedalling college rock.
"I find it hard to listen to my old stuff sometimes because, apart from a big ego in search of an audience, all I can hear is the echo of my influences," he admits.
Aside from Sylvian and Swinscoe, he would probably admit to a fan roster including Radiohead, Elbow, Miles Davis, Nick Drake and Aussie icons The Church. There's also room in his collection for records from John Martyn, Bon Iver, Talk Talk and Future Islands. However, even though Cahill turned fifty recently he's far from being trapped in 'Gold FM' nostalgia paralysis. His embrace of the first Japanese House EP underscores this.
"First timers can make great records too," he argues. "There's no telling where a great song can come from and I hope that that's what Evoletah are about. Y'know, just the song."
True, this is a familiar mantra. We've all heard image obsessed pop commodities spout these kinds of lines. Yet, sitting in Matt Cahill's garage all that garishness seems a world away. He is flesh and blood. Middle age aches and pains. Parental concern. The new Evoletah songs sound just as real. They come from a human being, not an act.
"After the end of The Violets and before Evoletah there was a five year period when I didn't play or sing a note," he recalls by way of explanation. "For a while that was cool, until my wife pointed out that I didn't really seem have any real fire; that I was kinda going through the motions. It was her that made me pick up the guitar again, who made me get on the phone and get another band together.
"So last year, when I was this close to giving the whole Evoletah thing up I thought about that and it just reminded me of the fact that, at this point in my life, I don't have to ask anyone's permission or seek anyone's approval to make exactly the kind of music I like."
Before too long the sketches being laid down in the garage will be ready to take to Cahill's long time production partner Brett Sody (at Sodypop studio in Adelaide). In the meantime, with Benjamin Johns and Michael Shanahan by his side, Cahill will continue to conjure a sound only hinted at on the much loved "We Ache For The Moon".
"Never serve the same dish twice," he quips as we make our way from the encroaching cold to the reviving warmth of a good bourbon and dinner table banter with two excited kids and a wife who's glad she put her foot down.
OFFICIAL LINKS & WEBSITES:
Words by: Paul Ransom
All photography by: Tommo Luke @tomato.da.pro
Please follow and like us: