Since the college Folk scene in Boston during the mis-1980s, New England singer-songwriter, Dan Weintraub, has been working his craft for over 30 years. Dan now spends his summers on the road touring the U.S. and his winters playing and teaching near his home in Quechee, Vermont. Dan has released many albums over the years including "BEAUTIFUL EMPTY" in 2015, as well as "AFTER THE SHOUTING" and "PULL BACK THE CURTAIN" in 2016.
Dan Weintraub's sound is obviously rooted in the folk traditions of the past, but shares some of the more updated chord progressions from today's indie music scene. His voice is also indicative of the style, soft and moody but punctuated and brassy at the necessary times. Dan's latest album – "PULL BACK THE CURTAIN", is a must-have in the collection of any alternative folk aficionado, perfect for that soothing winding-down after a long, bad day. It's what I call happy sad music. The songs have a stirring guitar strum, but on top they are garnished with moody, melancholic lyrics. The track, "It Happens", is a perfect example of this theory.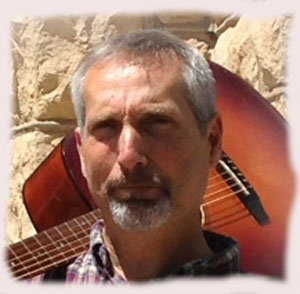 All-round though, Dan's music puts me in a mellow mood, makes me smile and allows me to feel some emotions. Through his music, Dan comes across as an everyday guy with the not-so-everyday ability to translate life into lyrics in a meaningful way. Add with his guitar and simple words, every song becomes a rich story you will want to hear again and again. Each of Dan Weintraub's songs take your mind and your heart on a wistful ride through our collective experiences of love, surviving emotions, and getting to know ourselves in good and bad times. Again, "False Joy World" and "With Me", is indicative of Dan's attentiveness to these themes.
Song after song, Dan Weintraub manages to convey moods that are at once tender and full of existential pain, without ever indulging in the way too common tendency of young songwriters to put music to their private diaries, nor indulging on the kind of over-instrumentation that not-so-young performers indulge in to make up for the lack of richness in their work. I don't think there's a single weak tune in his catalog, actually some of his lesser tunes could be the jewels in albums by most of his contemporaries. His is Americana – Folk, stripped from clichés, bringing together longing, sweetness, sadness, anger, hope and the lingering sense of someone continuously reflecting on life.
Weintraub's lyrics are some of the most visual and painterly I've ever heard. While listening to Dan's words, a film will unfold in your head. Listen to tracks such as "I Want You To Listen", "Look At The Picture" and "As In A Dream", to better grasp the sense of what I am talking about. Moreover, I think Dan should be an inspiration to many aspiring closet-musicians. He achieves excellence through only his voice and an acoustic guitar, nothing more is needed. The production is minimal and warm, while Dan's honest, straight-ahead vocal deliveries sound like a one-on-one conversation between friends.
The real greatness of Dan Weintraub's recordings though is obviously found in the songs and all their parts. The melodies are subtle and simple to the greatest extent. The strumming is faultless. The lyrics are my personal favorite part, and though they are often about struggle and pain, they are mostly sung in a bright background light. They possibly do that because Dan's voice appears to be the perfect medium for the stories. Without question though, the music's undeniable intimate and personal aura in all of Dan Weintraub's songs, is what will totally captivate you.
You can follow and catch up with Dan Weintraub and his music at http://www.danweintraubmusic.com and http://www.danweintraubacoustic.com
Please follow and like us: