On Tuesday November, 26th– Butta B-Rocka returns with an uplifting, groovy, and powerful folk/world music single 'Promise Land'. The melancholic single features a modern, melodic beat, powerful instrumentation, and an angelic vocal performance by Butta B-Rocka. From the beginning, you are able to hear the African influence in the music. Moreover, the single spotlights the artist's vocal abilities and her angelic tone. Undoubtedly, the single has the ability to grasp any audience as it contains a unique style and sound that gives the track a feel-good identity.
The powerful message and instrumentation of the single will take the listener into a musical journey. Additionally, the lyricism is impactful and can bring a smile to anyone's face. 'Promise Land' calls for unity between people and the necessity to heal. This is a song that will humble anyone and brings a sense of peace to all that listens. The track has the ability to resonate with any music aficionado as it has every element to be catchy, memorable, and impactful produced by Team MF'N, written by Oleathia Butta B-Rocka Robinson.
Listen To 'Promise Land' [Itunes] [Spotify]
About Butta B-Rocka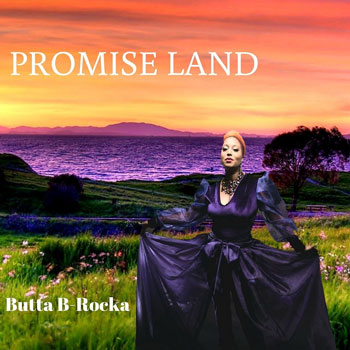 Oleathia "Butta B-Rocka" Robinson is a highly versatile and internationally acclaimed artist and musician. Her career includes work as an actress, composer, and model. She's also the best-selling author of "Fear of Failure", a playwright "I Cheated So What", Editor-in-Chief (for Defiant Ones Teen Magazine), and is the CEO and founder of the 501c3 non-profit "Artists Rock the MIC Foundation". Oleathia "Butta B-Rocka" Robinson has been diligently putting in work across all markets and borders.
Butta has redefined the term "versatility" by showcasing her vocals and composed pieces for ears all over the world, across genres from pop, rock, gospel, country, and rap. Between her background vocals, demo recordings, and stage performances her résumé boasts work and assistance with international superstars, Grammy winners and performers like Janet Jackson, Akon, TLC, Kanye West, Nas, Collective Soul, Zac Brown, Dream, Japanese star Namie Amuro, Belgium artist Sandrine and countless other talents across the globe. Butta is a triple threat, your one-stop-shop!
Unequalled in its diversity and flexibility- Butta B-Rocka's unique and powerful vocal range has allowed her to sing enchanting, soulful melodies in a wide variety of genres- ranging all the way from R&B, pop and rock, to country, rap, and even gospel, from the US, UK, Germany, Holland, Japan, Canada, Portugal, Caribbean Islands, Chile, Puerto Rico, Antigua, and throughout Africa, these are just a few of the many places that have heard her soul-stirring music.
Butta B-Rocka's mesmerizing and distinctive musical style has allowed her to play in some truly prestigious performances. She performed at the presidential inauguration, and has also played before multiple royal families. A few examples include when she played for the CEO Network Bahamas Conference before the Prime Minister of the Bahamas, for the Moradeun royal family of Nigeria, at the City Gala, on BET Hip Hop Awards, for the KY Derby and on Multiple International Cruise Lines.
 Her singing performances have wooed crowds of all sizes, both domestically and internationally- performing equally well in intimate settings, and in massive crowds that numbered well into the thousands.
____________________________________________________
Follow Butta B-Rocka Instagram  – Facebook  – Twitter
Please follow and like us: