From the imagination of musical genius Brandon Greenstein, The BreakBomb Project, or simply BreakBomb for short, is a rising outfit that is revolutionizing the EDM scene. After dropping his debut single "World" in 2018, BreakBomb has gone on to create an extensive library of melodic hits. Showcasing his artistic vision, BreakBomb's first album, The Project, was a booming success.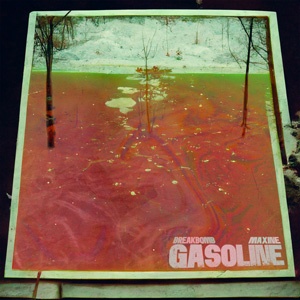 Carrying on the momentum garnered by his first two years as an artist, BreakBomb's 2020 anthem "Deep End" received a massive amount of support from TikTok and other social media platforms. Exponentially growing his fanbase, BreakBomb followed this up with "WHY", which climbed up the radio charts and even earned placements in Spotify's featured playlists. Now, BreakBomb aims to continue his hot streak with his brand-new single "Gasoline".
Searching for the perfect vocalist to fit his distinct sound, Breakbomb joins forces with singer-songwriter Maxine on the track. While attending Berklee's College of Music, Maxine conveys her experiences in life and strong emotions throughout her lyrics. She delivers heavenly vocals that blend seamlessly with the mesmerizing instrumental in "Gasoline".
Radiating a thumping bassline and interstellar progressions of future bass, "Gasoline" is a dark and cinematic masterpiece. It fuses elements of electronic, indie, and pop, before transitioning into a jaw-dropping drop towards the end of the song. In addition to taking listeners on an ethereal adventure, "Gasoline" foreshadows the bright future that lies ahead for BreakBomb.
BreakBomb's Bio: The BreakBomb Project (TBBP) is an experimental EDM outfit founded by Brandon Greenstein in July 2018. After the debut of his first single "World", Greenstein hit the ground running with the production of other popular electronic anthems, like "Breakdown" and "Fly Away". Wrapping up 2018, Greenstein released "Up 'Till the Morning", garnering much success for the young artist. Then, this rising artist went on to drop a new single "One Love", a teaser that was released at the start of 2019 for TBBP's debut album, "The Project" which featured hit singles like "Goodnight" and "Ticking".
In 2020, TBBP began the year with the catchy original, "Deep End." The song found massive success on TikTok and other social media platforms. Later in the year, Greenstein worked with singer-songwriter Ava Petrillo on "WHY," which made its way onto radio charts and curated Spotify playlists. Soon came a collaboration with upcoming singer Ryan Violet on "Drugs Don't Work," including a music video and support from various producers and DJs. Through its innovation in sound design and infectious style of EDM, The BreakBomb Project continues to set the standard high for future artists.
Maxine's Bio: Maxine Edmonds is a singer-songwriter currently attending Berklee College of Music. She is constantly writing music with the intentions of expressing her life's story and creating art that people can relate too. At heart, she is a California girl who loves outdoor adventures and just wants to spread the good vibes.
BreakBomb's Quote: "Initially I started making this track just for fun, not to officially release under BreakBomb. But after I found Maxine on TikTok, I sent her some of my demos and she liked Gasoline the best. Her writing and vocal performance combined with some unique genre-bending production ended up making one of my favorite songs to date."
BreakBomb's Highlights

Over a total of 1,000,000 Spotify streams
Performed with Zedd, Tiesto, Louis the Child, Madeon, Illenium, Aoki
Nominated for Boston Music Awards
BreakBomb's Socials
Website    Spotify     Apple Music     SoundCloud     Instagram      Twitter      TikTok      YouTube
Please follow and like us: