This is Electronic music revisited as EDM producer BlackLight is set to release the track "You Got Me Going (Original Mix)" on Friday, March 18th on digital download and streaming platforms.
Carl Lee Davis Jr. who goes by the artist name BlackLight is a hardworking and incredibly gifted up and coming electronic dance music producer, songwriter, and performer based out of Omaha, Nebraska. He has a voracious passion for creating and performing all sorts of electronic music including house, techno, trance, garage, Dubstep and many others. He is an enthusiastic dancer and has that positive persona that he tries to pass through in his music and deliver PLUR (Peace Love Unity & Respect) vibes with the world through his genre-blended creative arts. One thing is certain about his stunningly impeccable creations – they will make you want to get up and dance with reckless abandon! He is also the owner of the record label from where he releases his music under called 'Plurred Vision Records' (Peace Love Unity Respect Vision).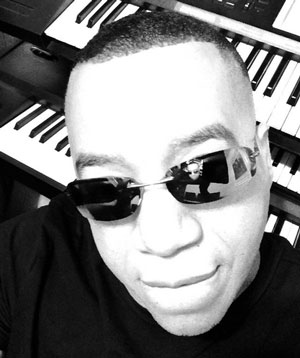 Taking a look at his Spotify channel for example, you will notice that he has over 98 K monthly listeners which is very impressive and his astonishing catalog boasts of popular releases such as: "I Like It", "You'll Find Me!", "Day – Instrumental Mix", "Free to Love", "Golden" and many others (the list is endless!). He is about to add to that innovative discography with another superbly created and enchantingly disruptive melody, "You Got Me Going (Original Mix)".
This track is a stunner and what you get is 5 minutes and 26 seconds of melodic extravagance and a full-throttle proper electronically charged EDM that cuts through with precision and orderly urgency! The way the kick drum integrates with the sub-bass, and cuts through like a sharp razor through the mix, being accompanied by the flying female vocals that sometimes engage in call and response motif and creates a riff and rhythm with the hi-hats is a moment of magic that will fill your heart with overzealous joy!
The reverberated snare drums play heavily in that Dubstep-kind of make-up and punches in the mix and the combination of those extra percussion samples and hats adds the space and width, and helps soften the sound and add that intriguing movement. He made this sound as natural as possible by throwing in a bit of randomization and the end result is simply stupefying! This track will be officially out on March 18th 2022 in major digital stores and streaming platforms such as Beatport, Spotify, Apple music, Amazon music and more. You can follow him through his socials and get to pre-order and listen through this stunningly innovated sound!
OFFICIAL LINKS:
Please follow and like us: