After positively reviewing his "Come Alive EP" in December last year, former Red Goodbye guitarist and electronic music producer Zalex is back with a brand new single entitled, "Locket". Everything that Zalex does -whether a remix of another song, a cover, or his own work – is well thought-out and easy to listen to. You don't have to be a sold-out electronica junkie to enjoy the music. His releases keep evolving and getting better, without losing what he's made of.  To say that "Locket" is a step up into the mainstream arena is an understatement. This piano-driven electro masterwork is bristling with melody and dripping with heartfelt depth.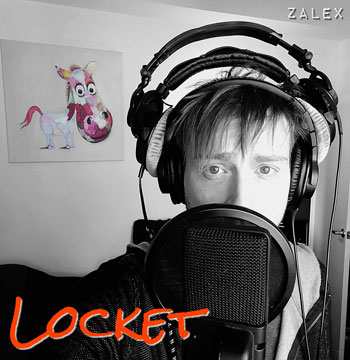 A delicious treat for any ears, this song meanders, builds and soars into a beautiful electro-pop ballad, with some stunning vocals and a superb musical production. Listening to his earlier work, I had no idea that Zalex could produce a poignant and ear-catching piece of this magnitude. The great thing about Zalex is that he is the perfect combination of programmer and songwriter.
Here, with all the technology available to him, it is still about great hooks, great melodies, and great beats. It is Zalex making music, not the computer. There are million whizz-kids out there with their Ableton and Pro Tools software, and all of them are inferior to someone who can write a great song from the bottom up, like Zalex.
If quality is measured by the ability of the music to transcend its various genres to communicate an intense, personal, deeply reflective, and intelligent set of ideas and emotions about life, then Zalex has scored a perfect 10 with the release of "Locket". His is obviously not the rule, or the expectation, for most electronic music, which has different, more limited goals for the emotional involvement of its listeners.
There's no judgment here, just the observation that Zalex has risen high above that level of engagement, to craft a beat, the instrumentation, and arrangement that rides a perfect edge between control and expression. There's an emotional journey here, and the ride ebbs and flows with passion, conviction and endless satisfaction. "Locket" is a very high water mark of this genre, and a lofty recording by any measure, worthy of any mainstream music Chart. This should give Zalex the respect he deserves as a top-rate producer.
OFFICIAL LINKS: WEBSITE – SOUNDCLOUD – FACEBOOK
Please follow and like us: