Based in Odessa, Ukraine, Vovkulaka (meaning Werewolf in Ukrainian) is an international metal band, with its members coming from Ukraine, Bulgaria and the USA. The band is currently made up of VolK (Vocals, Drums), Naya G (Dance, Percussion, Drums), JuleZ (Dance, Percussion, Drums), Ivan (Guitars) and In The Box (Bass, Dubstep, EFX). Their recordings are musical experiences. They take you to a dark place which is quite entrancing. Their percussive rhythms do something to the center of your brain that releases endorphins. You'll find yourself addicted to this stuff. Perhaps Vovkulaka artistry is best exemplified in their command of rhythm and atmosphere.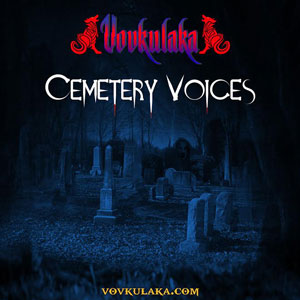 Their music has incredibly dense rhythmic structures, and in a way that doesn't draw attention to itself.  Vovkulaka do their work so flawlessly they trick you into thinking the beat is simple, but a careful listen shows there isn't anything standard about their music. It's something you need to listen for yourself to really appreciate.
The other thing you'll appreciate about Vovkulaka is how you hear something new every spin of one of their tracks. A new riff to appreciate, a hidden sound you hadn't noticed before, the sheer balls of the music, and so on. They will blow your mind every time you listen to them. Those same feelings are triggered by their latest single, "Cemetery Voices".
If you dig in and absorb the music that Vovkulaka make, you will appreciate where they are and what they do. Needless to say, this isn't the kind of music that gets better the more you listen to it. Those looking for dark harsh metal immediately accessible and melodic, will find that instantly in "Cemetery Voices".
For those who prefer to dig deeper and appreciate a band that practically defines a special genre of metal, which sits somewhere between black and death metal, there is a moment when their heavy bone crushing facade fades away and the incredible depth and discipline of their music is fully exposed.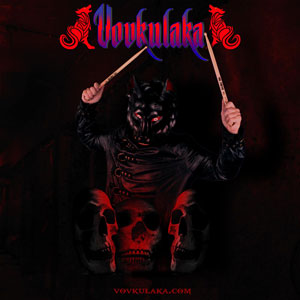 Vovkulaka are ferocious, brutal, and highly listenable mainly due to VolK's incredible vocals. He has a resonant voice that blends the harsh evil edge of a possible growl with pure melodic power. The result is an emotional, progressive, and blistering experience. It's a sound that shakes your inner spirit into dark oblivion.
The music is simply mesmerizing. "Cemetery Voices" has a crushing groove which will allow you to enter the most dark and surreal auditory landscapes. The moods and the emotions that Vovkulaka invokes here, are brooding, eerie, fearsome, raging, and awe-inspiring in their various forms.
It's quite obvious that the members of this band are totally uncompromising and seriously dedicated to what they do. One can just feel it listening to their music. Vovkulaka certainly takes things up a notch or two with the complexity and innovativeness of the composition, arrangement, tonal textures and sheer ensemble virtuosity.
Vovkulaka are not only masters of extremely dense and dark metal, they're one of the few acts in that category with some real personality and a strong sense of dynamics. Vovkulaka fans should certainly enjoy "Cemetery Voices", and those new to the band will get a concise taste of what Vovkulaka is about.
OFFICIAL LINKS: WEBSITE – YOUTUBE – TWITTER – FACEBOOK – SPOTIFY
Please follow and like us: