Voss Rollins is a multi-instrumentalist and singer-songwriter based out of Virginia Beach, VA. Known for genre bending and versatility, and after the fallout of his hip-hop project (General Booth), Voss has now turned his attention to Alternative and Folk music. One of two singles from his new self-titled project is entitled "Hole". This track is a must have for all those who love atmospheric acoustic music with a sprinkling of other instruments in support. A deep atmospheric song that describes a dark macabre inner world of melancholy, depression and sadness, as Voss sings: "I met my first wife in a grave. Fixed on my seams and shaved my face, down in a hole, waiting for me." And "I spend my days in an abyss, freeform jazz I slit my wrist, down in a hole…"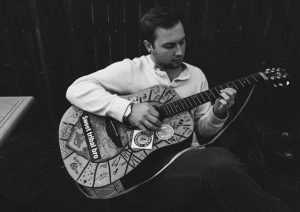 The song itself is beautifully written and performed excellently. Voss Rollins is not only master with a pen and a piece of paper, but he is able to transmit that pure emotion and every word written from his heart directly into the listener's soul.
The melody is simple and unadorned, but highly effective in addicting the listener. There is something hypnotic about the recording, at least partly due to the fact it was recorded with minimal production, and less distraction from Rollin's vocal delivery as possible.
Voss Rollins has achieved a work of such unassuming depth that it is impossible not to grow impatient for a second recording. He manages to conveys a mood that is at once tender and full of existential pain, without ever indulging on the way too common tendency in young songwriters to put music to their private diaries.
Nor indulging in the kind of over-instrumentation that not-so-young performers indulge in to make up for the lack of richness in their work.
I don't think there's a single weak link in this song here, lyrically and musically, as well as in Voss' deadpan ethereal vocal delivery, which fits the song's sonic aura to a tee.
This is alternative folk music stripped from clichés, bringing together the lingering senses of someone reflecting deeply on his personal life…and thereafter. Every verse and chorus adds to the hue of emotions Voss Rollins is so able to articulate. In some ways, Voss reminds me of Nick Drake, in his capacity to write of sadness so beautifully that it can almost embrace you, like joy.
OFFICIAL LINKS: WEBSITE ► TWITTER ► INSTAGRAM ► SOUNDCLOUD ► BANDCAMP
Please follow and like us: