KonQuest member and co-founder, VerseBorn has gained recognition for his overall captivating musical capabilities: clever lyrics, beat production, engineering, song arrangements and more. With the help, encouragement and support from the other KonQuest Now members, the Bay-area native has been able to carve a unique path in the game.
VerseBorn's latest single "Policy" takes a good hard look at a number of issues, as well as failures of our social and political system. The track doesn't exactly sound like your standard rap record, as "Policy" seems to portray a slightly more mature and conflict-fueled musical project.
Produced by Jaee Jaee, "Policy" almost sounds as if VerseBorn is having an internal argument within his own mind, trying to sort through the contradictory nature of life and come out a better man. And letting us know that this is something we should all be doing too.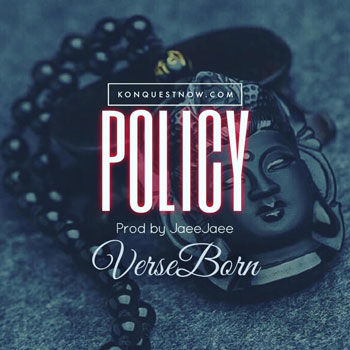 VerseBorn's rhymes are delivered in a contemplative and impassioned manner, with equal parts self-assuredness and humility. His lyrics are peppered with ironic comments and clever imagery, cryptically carrying social and political criticism.
Unlike the majority of rap lyrics doing the rounds that merely fall to the level of one-liners, inserted into songs as a means of keeping a given rhyme pattern moving along, VerseBorn's rhymes are meant to carry real messages.
His easily decipherable flow and metaphors are almost defiant in their simplicity. On "Policy", VerseBorn gives us something different than the usual fare of a genre that has long lost most of its essential realness.
This is focused, thematic, and still accessible. That last word might sound like a bad thing to many hip-hop heads, but VerseBorn achieves accessibility without diluting his amazing abilities as a writer and rapper. He strikes the perfect balance of depth and craftsmanship.
Lyrically profound and musically empowering, you will feel the power of his lyrics and messages the very first time you listen to "Policy". This is not for the weak minded. This music is for people that strive on complexity, originality, and look for a challenge when they push play. If this describes you, then you owe it to yourself to check out VerseBorn's quintessential masterwork.
If you've been infatuated with the underground hip-hop scene, which is something that more hip-hop lovers need to do, since the commercial product has gone down the drain from the mid-90s, you will know that VerseBorn is as good as the underground is right now.
OFFICIAL LINKS: REVERBNATION – KONQUESTNOW – FACEBOOK – INSTRAGRAM – LYRICS

Please follow and like us: