The 13 track album "CA$H ONLY" by Tommy Tony is an accumulation of experiences, from his adolescence to the present, all rooted in his town. A student of the game, Tommy Tony was born and raised in the mean streets of Roxbury in Boston. Always being hard on his grind, afforded the rapper opportunities to open for artists such as Lil Wayne, G-Unit, Memphis Bleek, and many more. That level of professionalism is brought straight to this recording. The whole album is evocative of the Roxbury artist's ability to hypnotize the listener with a fiery flow and spellbinding beats. Grade A wordplay, thought-provoking content, and compelling storytelling is the name of the game here.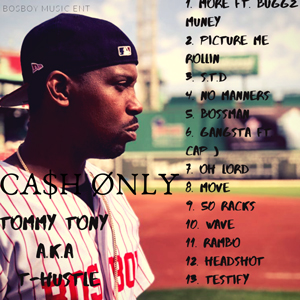 Tommy Tony kicks the album off with the dark cinematic beat on "More". From the moment the recording process started on this track, a line was drawn in the sand, with Tommy choosing to put his thoughts on front street, out loud.
Digging deep into his treasure trove of personal experiences stemming from a complicated existence, on tracks like "Picture Me Rollin", Tommy Tony's storytelling is at a level that could be considered sublimely big league.
But it's more than just telling stories. Throughout "CA$H ONLY", Tommy Tony makes you feel like you are actually there, walking the neighborhood with him. I think people underestimate what it takes to create a vivid album like this.
Tommy puts it all out there for us all to digest, judge, love and hate. That's the sign of a bold artist, who's able to unburden himself of wrong doings, fears, grudges and painful memories while working his way out of life's trenches. Hearing Tommy Tony flex his storytelling skills on the dramatic "S.T.D" is a visceral experience.
The cinematic backdrop complete with killer drums and manic keys, proves the perfect vehicle for Tommy Tony's melodic flow on top of the urgent rhythm on "No Manner$". He also gets his lyrical guns off on "Bo$$Man", backed by slapping percussion and looped horns.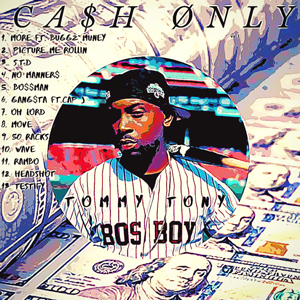 Then in keeping with the narrative of lyrical excellence, there's "Gang$ta", an earth shattering moment for the album, that hears Tommy Tony unite with rhyme partner Cap J. Moving forward the good stuff keeps coming – from the ethereal and personal "Oh Lord" and "Move", to the dynamic bang of "50 Rack$" and "Wave", Tommy never lets up, keeping his foot to the proverbial pedal.
Going melodic on the hooks over the "Rambo" backdrop, that is at its most lethal when the drums cut back in, Tommy Tony puts on a masterclass of changing flows.
Whether it's Tommy spitting: "Don't matter if you hate it or you like it. Don't matter how you cut it or you slice it. Unanimous the judges all decided. You lost already what's the point in fighting," on "Head$hot", or singing the ear-catching hook on "Te$tify", his always connecting your mind to a significant issue.
"CA$H ONLY" proves Tommy Tony is a top tier rapper, no question. The album is a straight-talking storybook that not too many rappers are capable of delivering today. Combining transcendent lyricism with incredible instrumental choices, it's an excellent example of how beats and rhymes are supposed to blend with one another. Not just that, "CA$H ONLY" also proves that other rappers need to really step their game up.
Connect with Tommy Tony on Instagram @tommytony7 and Twitter @tommybutter
Stream and Download his album "Ca$h Only" on ITUNES and SPOTIFY
Please follow and like us: