Running through his back catalog, you will notice that Toby Regal has hardly put a foot wrong. Few newcomers capture real emotion like Toby does, without being over melodramatic or overwhelming. Instead of chasing trends and competing with other upcoming whippersnappers or even his more famous peers, Toby sticks to what he does best – a mix of electronic sounds, catchy melodies and romantic nostalgia. His lyrics blend beautifully with his smooth rhythms, making for both thought provoking and appealing listening experiences.
On his latest release, "I Am Still Right Here", Toby Regal once again captures all his aforementioned lightning in a bottle. Just like many of his previous offerings, the song here moves in the friendly landscape of contemporary pop, where ballads are at the fore, and which are also Toby's strongest forte. Here Toby displays his maturity as a songwriter as he delves deep into the complex emotions of sentimental affliction and unrequited love. The record is brilliant in the simplicity of its sophistication.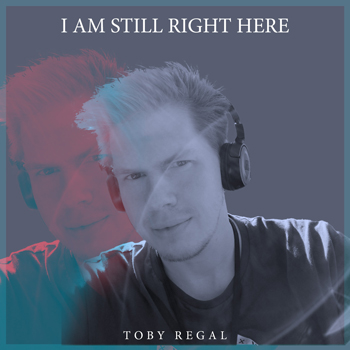 "I Am Still Right Here" deals with the sensory side of love, showcasing that Toby Regal has the sensibility and the Midas touch of a songwriter comfortable within his craft. This is beautifully crafted mid-tempo ballad that is smooth and melancholic in its sound.  And most importantly, this song fits Toby Regal like a glove, which he delivers masterfully and comfortably. It is without a doubt his best vocal and songwriting work yet. An infectious tapestry of sounds both timeless and captivating.
MORE ABOUT TOBY REGAL: Toby Regal was born in Stockholm, Sweden 19 August 1980, and loved music since he was a kid. He spent most of his allowance on buying albums, and could spend hours in a shop trying to find music that he liked. His passion for music turned him into a singer, songwriter and producer. He wrote his first song when he was nineteen.
He studied Music Production in Stockholm (School of Audio Engineering and Kulturama), music History (Stockholm University) and decided to move to Scotland to study composition. However, this ended up being a long break from music, and many friends and family encouraged him on occasion to get back to creating music and producing music again.
Toby Regal describes his music as catchy and his lyrics are telling his stories and are personal. Toby sees creating music as therapeutic experience, as it feels better to get all the feelings and experiences out on paper. It also helps him to grow as a person and work through experiences.
Living in Lisbon renewed and brought inspiration. After a divorce, Toby was set on making a change to his life, and handed in his resignation, booked a one way ticket and arranged temporary accommodation before he even had a job or a real plan.
Making music again seemed like a natural decision, and after a few months of writing and producing music again he released his first single "Never Walk Alone" on 17 July 2018.
Connect with Toby Regal:
Website: www.tobyregal.com
Facebook: www.facebook.com/TobyRegalMusic
Instagram: www.instagram.com/tobyregal
Twitter: www.twitter.com/tobyregal
Please follow and like us: