The upcoming artists, Juan Angeles & Sunny Diesel AKA The Super Barrio Brothers, have been friends for over a decade. The duo, born and raised in California, has recently released their EP, "The Super Barrio Brothers Present: Just The Tip". This genre-crossing duo has definitely got the goods to make a name for themselves.
If you're looking for a total change in pace when listening to Rap and Hip-hop, you will for sure want to drop whatever you're doing and listen to "Just The Tip". The Super Barrio Brothers, mix well sung Soul and RnB flavors with some rap verses to create a melodic and endearing listen.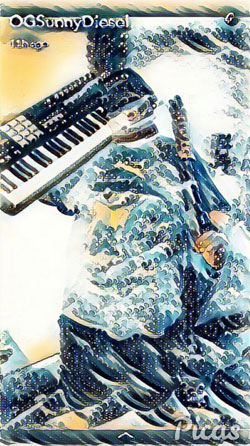 The Super Barrio Brothers, deliver unto us "Just The Tip" to save us from the mediocrity of much of the so-called R&B/Hip-hop music that's been released in recent years. The music is on point, and with the right pair of headphones you'll truly be able to appreciate the skill and intricate style that the production brings to this EP.
There are only 3 tracks and no two are alike, The Super Barrio Brothers brought great diversity and range to this recording, something that is often lacking in most modern recordings.
R&B, Soul, and hip hop have been at an all-time-low in quality these past few years. This EP is simply a breath of fresh air. Juan Angeles & Sunny Diesel avoid clichés at levels of production, musical performance, and lyrics.
Each song brings a mood, a reflection, and a wonderful sensibility to the layers of thought and lived-reality reflective of a set of artists who are still engaging life with wonder. "Just The Tip" is not just about banging hits but instead about the leitmotif of contemporary daily love and life.
I listened to it nonstop because it speaks to so many dimensions of the times without being preachy and self-righteous. Instead, it offers tenderness and reflection, especially on "Baby" (Prod by No Love) and "Some Thangs" (Prod by Blunted Beatz) – a track that pulsates flawlessly through the speakers and worth turning up the volume full blast for.
The Super Barrio Brothers also do a tribute song for the fictional super heroine Sailor Moon, entitled "Usagi Tsukino" (Prod by Jewfy).
This EP is for urban music fans with a true appreciation for elite creativity and musicality. The Super Barrio Brothers sing like you might imagine they would: allowing the soulful expressive tones and clean falsetto to bleed through into the songs.
Furthermore, they don't intimate sex and carnality through asserting their own control, as most R&B artists do, but rather through a shared sense of vulnerability and an ineffable quality that infiltrates their verses. "The Super Barrio Brothers Present: Just The Tip" is one helluva catchy, stay in your head, harmonious-melodic EP. This is smooth soul music with a splintered Hip-hop edge!
OFFICIAL LINKS: SOUNDCLOUD – TWITTER – INSTAGRAM
Please follow and like us: