When he's in his lane, there's very little wrong FR8 can do, and in fact he does no wrong on "Tape Vol.1". He feels like an outsider in an industry that should be pushing him into the mainstream more than his peers. He's proven himself to be smooth, skilled and versatile in his work. This project has somehow harnessed the essential elements of FR8's skillset. It takes catchy, mellifluous music and inexplicably makes it better. "Tape Vol.1" features crisp instrumentation that easily locks into place like clockwork. As warm and inviting as FR8's music is, he's a sharp lyricist plugged into the world around him.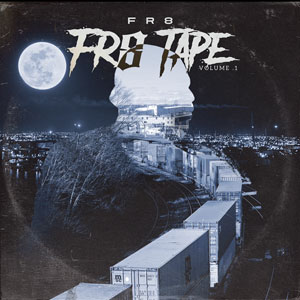 Here we find him firing on all cylinders, as he floats effortlessly across the five songs. Though there's always room for development and experimentation, the one-dimensional flavor of current hip-hop seems ill-suited to an artist of FR8's charisma, hence he takes all the elements of modern hip-hop and blends it into his own personal flavor. Making him both melodic and lyrical at the same time.
The 26 year old artist from Queens, NY, who grew up in Long Island, opens up the project with "Sleepless", and its instant melodic fire built on a banging beat. With such quality of vocals, the material has to stand up to scrutiny and it stands proud. The currency of this tape is an abiding need for a groove and vibe, and the tracks here are all variations upon those themes. Having said that, each track has its own standalone style.
FR8 and Troy Gigolo add their ineffable quality to what is already a delightful piece on "Promise" ft. Troy Gigolo. One of the key ingredients here are the vocal performances, whether singing or rapping, and indeed, they remain a constant factor throughout the whole tape. Nothing overstays its welcome and it feels tautly focused on delivering memorable journeys driven by shimmering and soulful soundscapes.
FR8's truth shines through the prism of his true musical self-expression on "M.C Interlude" creating something that sounds soul-searching and substantial. FR8's charisma and rhyming skill is there for all to see and hear.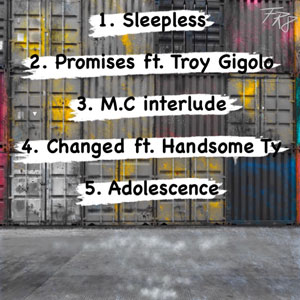 His voice is warm, strained, and conversational. It's immediately clear. This is a sincere song, brimming with honesty and humble perseverance. FR8 is a confident and unique presence, with a strong command of style, all of which he forges on "Changed" ft. Handsome Ty.
This is another lyrically relevant and vocally potent song, with an earworm hook built in for good measure. FR8's musical and emotional generosity ties everything together, in a track that flows with winning verses. This is powerful art that gets even more powerful on the precious and intimate "Adolescence", where FR8 delivers some solid introspection.
Though only 5 tracks deep, "Tape Vol.1", paints a big, broad picture of FR8 as an artist. He showcases his range of musical abilities as a vocalist, and as a writer.  The project excels largely because of its living, breathing compositions. FR8 transcends time on "Tape Vol.1", turning his music into something that any rap generation can enjoy. Those who like the melodic vibes, and those who like the substance.
Connect with FR8 on INSTAGRAM @Fr8_raw
Please follow and like us: