"Knowledge" is the latest EP from hip-hop emcee Survive. This is his third Ep project and his most well-rounded recording thus far. The rapper seems to be creating with a clear mind and it lends a sense of purpose to each of his tracks. By naming this EP "Knowledge", Survive indicates that the recording is meant to convey a message. Though it makes your head nod and your face scrunch up with groovy delight that isn't the priority this time around. Survive's mission is to enlighten.
He immediately puts this plan into action on the EP opener "Beyond", as he lays out the afflicting plights of the world, and tells us not to throw away the people that help us. It's striking to hear the amount of sensible knowledge the rapper has, and his knowledge is a response to the attitudes that he clearly points out during the song. This is a far cry from the "money, hoes and weed", many of Survive's contemporaries preach about.
Survive's verse on "Surviving" sounds like a spoken word performance that just happens to have some luscious music behind it. And the music bangs, including a resonating horn section. Yet it gives plenty of room for Survive's words to impact listeners.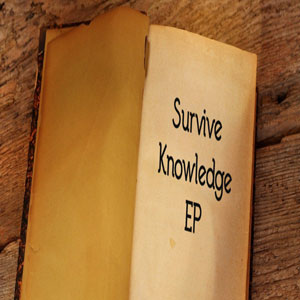 "Why I Rhyme" is a clear knock at the fickle fluff that the industry releases in the name of commercial success. "Why I rhyme. Not for the chatter. Why I rhyme. To make you better," raps Survive, making his sentiments and intentions obvious for all.
The structure of the "Knowledge" EP devotes itself to embracing a free-flowing form of narrative, as the tracks run like chapters in a concise book of knowledge. This approach works in favor of the EP due in part to Survive's ability to deliver clear objectives with each song.
"Like No Other" slides in on a slow burning soulful soundscape, as the emcee continues to impart his insights and observations. "I'm like no other deep-thinking brother," sings Survive.
The production on this project is compelling, with a bunch of interesting loops and samples brought to the fore. On the technical end, the EP's mixing and the sonic choices are diverse enough to keep your ears engaged but never stray to far off the deep end to take you out of the listening experience. "Intact" closes the show down with another retro soul groove and a big band sound, while Survive flows with effortless ease
A more unique element of the EP is Survive's use of conversational-styled talk throughout the nuanced narratives. This lends an aura of authenticity to the project, almost as if Survive is trying to keeps things personal between him and the listener. As the landscape of urban music becomes harder to maintain its integrity, it's rather refreshing to see someone like Survive, still stimulating the core values of hip-hop.
Lyrically, Survive is at the top of his game on this EP. What direction he intends to go from here is anybody's guess, and despite this being an enlightening project, there's still plenty of worthy subjects and topics that Survive can expand on in the future.
OFFICIAL LINKS: MUSIC STREAMS – TWITTER
Please follow and like us: