Lead singers and siblings Jonathan and Udi Vogelsang formed the alternative rock back Stellar Lane based in Tel-Aviv, Israel. The brothers who have been playing and composing music for years are heavily influenced by Seattle's Grunge era, hence their music has a nineties flavor, without however, losing its modern indie and alternative elements. Having two lead-singers allows Stellar Lane to give an energetic and diverse performance which has conquered many stages.
The band has already toured North-America and Europe including shows at the Canadian Music Week festival (Toronto, Canada) and Deichbrand festival (Bremerhaven, Germany) which gained interest in local radio and media.
Since releasing their EP "Follow your mind" in 2014, Jonathan Vogelsang (Lead vocals, acoustic guitar), Udi Vogelsang (Lead vocals, keyboards), Dotan Kalmer (Electric guitar, backing vocals), Adam Younger (Bass guitar) and Eyal Goaln (Drums), have been relentlessly working on their debut 11 track full-length album, to be released in the summer of 2017.
In the meantime Stellar Lane has dropped the lead single, entitled "Reflection" from the aforementioned album.
"Reflection" is a slow rocker that has a building melody, brooding understated riffs, warm innovative keys and acoustic guitars etched in a swirling arrangement, beautifully structured vocals, a soaring chorus, and some of the tastiest drumming around.  I realize how pretentious that sounds, but I don't care.
The track not only highlights the songwriting and singing talents of Stellar Lane, but clearly showcases their instrumental prowess as well, without anybody overplaying or seeking virtuosity as a quick connection to impress. Each member seems to be at the service of the song, and not the other way around.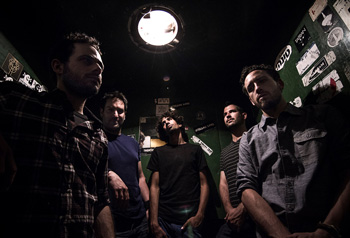 "Took so long to make you happy / And as it happened, something went wrong / A smile hides sadness, cries with happiness, Reflection of our love. The fading pain defines all boundaries /  Time against us, future holds nothing / The sun goes down and won't be shining, Reflection of our love."
There are no words that will do the lyrics and vocals any justice; it is simply a track that you need to hear to understand. "Reflection" begs for absolute silence while listening to it. You need to put on your best pair of headphones or break out your stereo system and bring out the full dynamic quality of the song. This track is completely coated in a haunting, afflicted atmosphere.
And even though I love grinding riffs and pounding drums when it comes to rock music, nothing comes close to the magic that intimate, heartrending songs like "Reflection" bring as a whole. The song bridges the gap between true grit and pure emotion – two elements essential in rock n' roll of any style and genre!
OFFICIAL LINKS: BANDCAMP – FACEBOOK – YOUTUBE
Please follow and like us: