Smart Asses is a hip hop duo out of Southern California, delivering a style reminiscent of the Beastie Boys, but with more sophisticated, intricate rhymes and creative subject matter. The lineup features IQ (aka Kevin Paul), formerly of the group Linguistics, whose storied background includes sharing stages with Wu-Tang Clan, Chino XL, Dilated Peoples and KRS-One, as well as collaborating on songs with 2Mex and Percee P.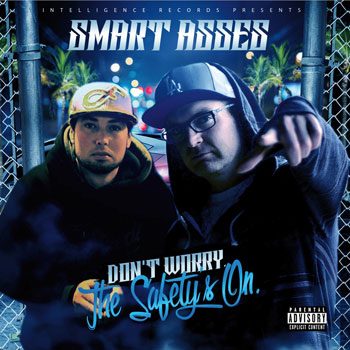 IQ is joined by his cousin, Significant7 (aka Jesse Ward). Formerly of Infinite Vision, Significant7 is known for several collaborations with Awol One, as well as working with 2Mex and Abstract Rude. IQ recently opened up the show for Canadian rapper Madchild, and as Smart Asses they are already performing shows around Los Angeles.
In the eighties there was a rap group who provided head-spinning listens loaded with analog synthesizers, old drum machines, call-and-response vocals, freestyle rhyming, futuristic sound effects, and virtuoso turntable scratching. The Beastie Boys were notorious for their dense, multi-layered explosions.  Moving from electro-funk breakdowns to Latin-soul jams to spacey pop and raucous punk, they covered as much ground as all other hip-hop artists put together. After them, a total void in rap and hip-hop…until now!
Along comes Smart Asses with their upcoming release, entitled "Don't Worry, the Safety's On", which turns out to be a masterstroke. The sonic adventures alone make the album noteworthy, but what makes it remarkable is how it looks to the future by looking to the past. There's no question that Smart Asses is saturated in old-school principles and styles, but they have brought future sounds and technology to the recording and have shrewdly set themselves up in the new millennium, as a total wild card in the rap game. Something only the Beasties have been able to pull off before them!
The Smart Asses latest offering serves up an eclectic sampling of their musical range. Where else can you get to hear diverse tracks like "Tap It", "Fuck Racists", "Struggle" and "Skatin'", all on one album? The variety of songs on this album is as endless as a Las Vegas buffet. One need only listen to the back to back tracks, the acoustic-guitar driven organic sound of "Innovate" and the inspired electronica of "Cashin' Checks", to understand what I mean.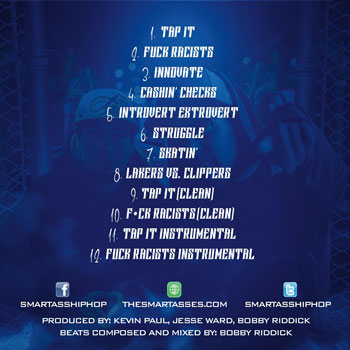 It is this stark difference in musical styling within the same album that I love the most about the Smart Asses; for sure, their intent is to not let the listener become complacent and comfortable with the usual hip-hop grooves. They want to keep their listeners on their toes by throwing all sorts of thunder and lightning at them. And believe me, they do. And they succeed at it too.
The Smart Asses have taken an original approach to making music, showing a raw creative genius and a willingness to try something different. With "Don't Worry, the Safety's On", they are keen on taking hip-hop to new heights. They exploit the emerging technology and introduce a whole dimension to the hip-hop masses. The grooves, the beats, and the rhymes, are immediately satisfying, but rich enough to withstand many listening's.
Listening to this album is like reading a good book of short stories. You can re-read your favorite stories over and over again and they remain awesome, or you can reach out and try a new story and you know that it's going to be another great one. All-round, Smart Asses raises the bar on the competition. They prove they're smarter and can draw on a much larger musical context than their colleagues can!
OFFICIAL LINKS: WEBSITE – FACEBOOK – TWITTER – SOUNDCLOUD
Please follow and like us: