Turning 60 never sounded so electrifying. Slovak guitar virtuoso Henry Tóth just dropped his self-titled LP, packed with over 20 blazing instrumental tracks. The album showcases Tóth's masterful fretwork, built upon decades of experience as a guitarist for Elán and collaborations with a who's who of the Slovakian music scene, including Richard Müller, Marián Čekovský, and Rob Grigorov. From bluesy rock riffs to jazzy licks, Tóth's new LP delivers a tour-de-force of six-string prowess, occasionally kicking up the tempo with danceable beats. The guitarist says he finally stopped second-guessing himself and let the melodies flow. "What I had on my tongue just came out. The ideas played in my head like a movie, and I hope you can feel that raw energy in the work," Tóth says, hinting that he may venture into film scoring in the future.
The LP was recorded at SoundbergHill Records, under the direction of producer Norbert Müller and sound engineer Braňo Jurnečka, who also played drums on the album. Keyboardist Ivo Petrík and wind instrument masters Mário "Gapa" Garbera and Pavol Jeňo added their talents to the recording, which was captured during the summer of 2022. The cover art was designed by graphic designer Martin Výbošťok and shot by renowned photographer Martin Fridner.
As soon as you press play on the opening track, "The Whistling One", the first thing that strikes you is the luscious organic warmth of the sweeping arrangement and production. The brass and the rhythm section play an important part alongside Henry Tóth's six-string prowess. "I Got Lucky Tonight" has that resonating clean and soulful guitar tones of the legendary Dire Straits sounds, while "Let's Get This Straight" has a crunchier, bluesier feel and a driving rhythm.
"When The City Doesn't Sleep", "Soft Weapons" and "The Drummer's Bucket", signal a blend of delightful, passionate, adventurous and imaginative tracks. Henry Tóth's incisive attack, biting tone and sharp riffs presents musical journey full of intricate pulses, tension builds and ear-warming resolutions as he switches between moods and playing styles.
Moving forward through, through the slower Carlos Santana-like "Mama", the bouncy "Chillout" and the mellifluous "Lucy", you will notice how the album has an essential crossover appeal to discerning rock fans, guitar freaks and fusion fans alike, with its deep grooves, melodic phrasing, and soaring solos.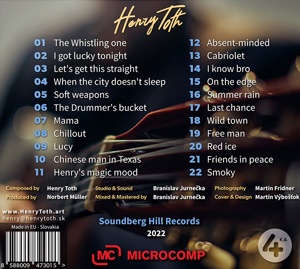 "Chinese Man In Texas", "Henry Magic Mood" and "Absent Minded" are clear examples of how every note played by Tóth is significant. Every melodic phrase illuminates another aspect of the song and each tonal inflection brings significant emotional sweeps.
Henry Tóth's unbridled imagination and fluency of his playing makes you forget that this is an instrumental guitar album. Tóth's playing is lesson in taste. He builds his solos like a painter users brushstrokes, only bringing technical pressure to bear when the song requires it. In short, he is one of the few guitarists who serves the song, instead of his own ego.
The punchy "Cabriolet", the mid-tempo "I Know Bro", and fusion funk of "On The Edge", have a freshness and spirit so often lacking in contemporary guitarists, but then again Henry Tóth has so much more to his skillset than simply speed and a relentless barrage of notes.
His magnificent band of collaborators serve him well, and when they all lock together on some of the swaggering grooves, they help push Tóth to new heights. On "Summer Rain" he settles into a chill acoustic groove, showing he is just as impressive when unplugged.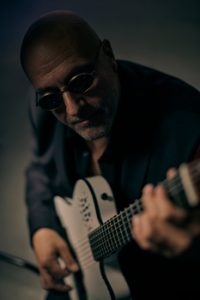 Its back to the electric grindstone on the slow burning groove of "Last Chance", the intense momentum of "Wild Town" and the shred-filled "Free Man". These songs add to the coherent musical journey, even though it is essentially a double album.  There are plenty of imaginative musical pit stops, full of different tones, tempos and styles in a musical landscape that sounds as if Henry Tóth and the other musicians won't settle for anything less than excellence in their performances.
The haunting "Red Ice", the bluesy Eric Clapton flavored "Friends In Peace" and the B.B. King-like "Smoky" brings the album to a fantastic close. The rich instrumentation creating a showcase for Henry Tóth's warm expressive tones and gnawing melodies, as he unleashes a flowing cascade of notes with many twists and turns.
Working from a broad sonic canvas and with a crack crew of collaborators in tow, Henry Tóth keeps things fluid and impactful across the album's epic runtime. There is no question that fans of superb guitar work will find endless elements to love in this recording. Get ready to rock with Henry Tóth's latest album, a must-hear for fans of electrifying guitar music.
OFFICIAL LINKS:
https://www.henrytoth.sk/
https://www.instagram.com/henrytothofficial/
https://twitter.com/HenryTothBand
https://www.facebook.com/HenryTothOfficial
https://www.facebook.com/toth.henry
https://www.facebook.com/branislav.jurnecka
https://www.instagram.com/branislavjurnecka
https://distrokid.com/hyperfollow/henrytoth/henry-toth
Please follow and like us: