Skuadrum's single release "From Today" ft. David Luke, takes the listener on an unmitigated aural journey through the outer reaches of both retro and futuristic electronic music. The Italian American duo founded by Piggypop and Skuadrhop, have wisely applied their skills, energizing the beat and the prominence of the vocals in the process. Shaking with the potent narcotic haze of analog synths and growling basslines that vibrate over the entire surface of "From Today", this song comes off as potential hit, ready for the radio. It also showcases an impassioned vocal melody that is hopelessly infectious and will have even casual listeners humming along with it very quickly. This song provides a mood and groove, far more impellent, melodic, and ultimately accessible, than what any of Skuadrum's contemporaries are producing.
"From Today", shows a remarkable amount of confidence. There are many sun-bursting synth moments on this track, while the thumping bass, drives the emotional underbelly of the arrangement. The atmosphere is as relentless as it is cohesive, while the resonating vocals alone offers so much goodness to cling onto.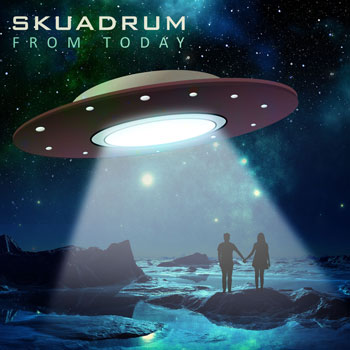 The melodic voice juxtaposes wonderfully with the driving pace of the underlying beat. This recording herald's the duo's penchant for crafting lush, multi-textured soundscapes full of melodic warmth and vibrant rhythmic flourishes. No doubt their ambitious musical vision is fully solidified across the expanse of "From Today".
Notwithstanding this is a song of the moment, "From Today" has something of a classic sound built into its DNA, and hits all the right buttons, to be able to stand out in a number of previous musical decades you can think of. With its booming beat, skittering synths, shimmering keys and a soaring catchy vocal performance. It's about as good as dance-mode Skuadrum have ever been.
Turn up the volume to the top, and the thundering three minute "From Today" ft. David Luke, feels like it's ready to spread your speakers in all directions. This track completely transcends its genre. It's just a brilliant record top to bottom. The beat, the bass, the synths, the vocals; everything here is blissfully effortless.
Simply put, this is a gorgeous track, from whichever angle you look and listen to it, and one that should be in anyone's music collection, regardless of taste. Through the thick and heavy abundance of genres and subgenres in the world of music, electronica, along with hip-hop, is one of the most bountiful genres which keeps bringing us new talent on a daily basis.
Some will come a go overnight, or as soon as their trend-copying hype evaporates. Others will remain because they have the skill and a timeless aesthetic that outlasts any single trend, Skuadrum sound like they belong to this latter collective.
Former members of a heavy metal band that traveled the world for the past 4 years, during the 2020 quarantine in April, Piggypop and Skuadrhop, started working on new material, finding inspiration from bands like The Prodigy, Eminem, and NWA, combined with elements of electronic, rap, and dance music.
Skuadrum's music was written and recorded in icy Norway during the pandemic. They plan to record a new single every month, release a full album, and play concerts for their loyal fans as soon as possible.
OFFICIAL LINKS: WEBSITE – SPOTIFY – YOUTUBE – INSTAGRAM – FACEBOOK
Please follow and like us: