Signed to with Lil' Chaos Records & Zebra Music Management, Six Gun Sal is a 7-piece Classic & Southern rock band. The members consist of Shannon Micheal's (vocals), Dusty Lang (rhythm guitar), Joey "Jo Jo" Durant (drummer), Matt G (bassist), Ed Fierro (lead guitar), Matt Beal (guitar) and Mia Dunn (backing vocals). On Oct. 1, 2019 the band, who worked in the studio with Producer Dan Malsch from Soundmine Recording Studios & Samantha Harris assisting from Lil' Chaos Records, dropped their new single "Mama Said", which will be followed by the other songs on the EP, entitled "Take Me Home."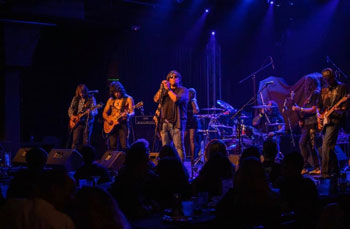 Have you ever wondered where heartfelt southern rock went? Well it's right here. Hailing from Los Angeles, these guys have obviously honed their chops in bars and on the club circuit. They are tight, smooth and the real deal. I found a few of their selections from a previous full-length release, and the boys whittle it down to no-nonsense, bare-bones Southern rock.
Remember when bands wrote music, then really played it? That is what we have here. Rare to find these days, and these guys kill it on "Mama Said". This one is certainly a mid-tempo crowd-pleaser that cuts straight to the chase.
It's that seamless sliding between classic melodic rocking and good old southern fried goodness that is Six Gun Sal's biggest strength here. It is the sign of a band in a streak of form and who seem able to deliver what the fans demand of this genre. So if Lynyrd Skynyrd has rolled up the Dixie flag and kicked off their cowboy boots that means a vacancy has opened in southern rock's outlaw nation.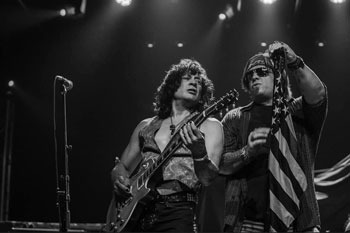 There's obviously no shortage of pretenders who want to grab that spot, but they'll have to deal with these Los Angeles applicants who have a serious working knowledge of rock n' roll. More than anyone else Six Gun Sal have the potential to maneuver themselves into a position at the forefront of the modern southern rock pack.
Six Gun Sal know the value of keeping it simple. They play music for the people, pure and simple, stripped of pretension and artifice. There's a soulful melody, heartfelt lyrics that are relatable, a set of searing guitars, a thumping bass and drum rhythm, and a non-stop groove, which they've got totally locked down on "Mama Said".
It's a beautifully conceived heart-on-sleeve, life-experience confessional. This is unvarnished, introspective music played by grown men and a gal, who don't give one pinch of cow's dung about what's going on out there in the current fashionable music stakes.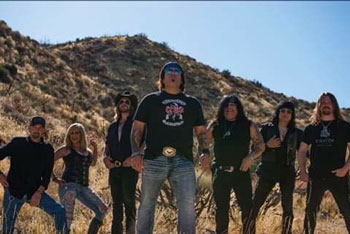 With its relentlessly catchy melody and soul-searching narrative, "Mama Said" lets you know from the start that it comes with some weight – both lyrically and musically. Six Gun Sal are, in fact, pushing the boundaries of their chosen genre, and dragging it into the new decade from the very first note.
It says all you need to know about the palpable authenticity you're hearing from start to finish here. Strangely, in a musical landscape populated by hi-tech beats and artists who are technicians rather than musicians, manipulating laptops and loops, maybe Six Gun Sal is the real groundbreaking musical alternative, we're all looking for, going into 2020. You'll definitely want to play this track to your friends.
Six Gun Sal's music is being released on Sony "The Orchard"/Lil' Chaos Records, and in 2020 the band is embarking on a tour in support of their latest releases. They will be in the US next year and still have some dates available, interested parties can call Zebra Music Management at 435-216-0337.
OFFICIAL LINKS: WEBSITE – INSTAGRAM – YOUTUBE – FACEBOOK – ITUNES
Please follow and like us: