Silver & Grace are a new duo project that started in Tel Aviv and is now based in London. The duo is Chen H.perez (vocals, lyrics and tune) and  Asi shimoni (musical production and instruments) who plan to officially introduce the project via gigs at the 93 Feet East on Thursday 17 November 2016, and at 229 The Venue 2, on Friday 2nd December.
In the meantime Silver & Grace have dropped the single, entitled "Fearless", from their upcoming EP to be released later on this year.
A spectacular, rich, colorful, deep, and buoyant electro-pop track with loads of texture and thoughtful detail, Silver & Grace have outdone their previous works. The occasional tendency of tracks to sound like alt-pop sketches has been replaced by a confidence and undeniable talent on "Fearless" to weave exhilarating creative details into a rigorously structured song.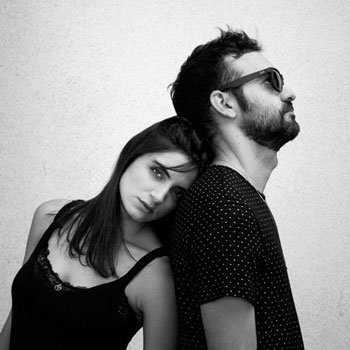 The thread that holds this thing together seems to come from both the vocal side and the production. Silver & Grace seem more confident in the voice and lyrics bringing them front and center.  They find inspiration from pop music influences, and then mutate them into songs resembling a variety of electronic sounds.
I'll admit I had to listen to the track a number of times to wrap my head around the intriguing soundscape. The composition is stellar, atmospheric and melodic. There's a lot to chew on here. It's great to hear the duo letting go and making music that speaks to the soul.
The awesome layering of sounds and beautiful melodic vocals grab and hold your attention. Inside all the artifice runs a deep current about music itself, what it can do and what can be done to it, and the power it holds over us in our most vulnerable moments.
"Fearless" looms as tall as the singles you carry inadvertently in your brainstem. It has the same aspirations. Silver & Grace have crafted a glorious electro-pop monster entirely with their own minds, hands, and voices. The listener, on the other hand, is simultaneously plucked into pop nirvana.
Throughout the record, Silver & Grace show a natural attachment to the glossy appeal and universal reach of pop music, but more important is their ability to draw out the latent versatility of the genre rarely touched on in the mainstream.
That fearlessness that now characterizes their singing is detectable in equal measure in every component of the track's production, as well. In the fiercely competitive pop world, the coalescence of earworm melodies, lush production, and dynamic performances here on "Fearless" is the result of an ensemble effort by two highly creative and talented artists.
OFFICIAL LINKS: FACEBOOK – YOUTUBE – TWITTER – SOUNDCLOUD
Please follow and like us: