Waltzing between rap and singing, or juggling outspokenness and introspection, Toronto artist Savage Life Banks, cruises across his 5th EP "Still In Demand" with ease, never even breaking a sweat. The man is in total control of his skills, backed by smooth instrumentals that pop with rhythm and groove. The result is a well-crafted and concise EP, a quality appetizer in anticipation any future projects Savage Life Banks will most definitely be preparing. Right from the opening track the artist takes us by the hand and accompanies us through an 8-track set of broody soul, evocative hip-hop hustle and low-slung emotional drama.
Savage Life Banks' tender, soulful, but resonant voice, powers the songs with heartfelt lines about personal trials, relationships, aspirations, and the daily hustle and grind to stay ahead of the pack, while the production runs dark, booming, twilight beats, which beautifully flicker and twitch with vibrancy throughout. Savage Life Banks is in his bag for producing moody, introspective songs with a nostalgic twist, so "Cool Life" is the perfect way to kick-off the EP.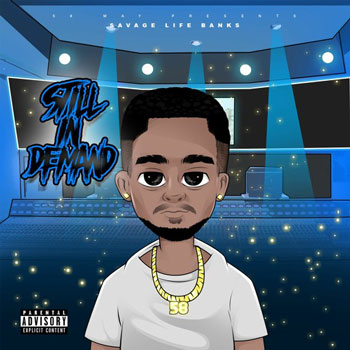 You can see and feel everything he's singing in "Checcin' Up", as Savage Life Banks lays down a vivid narrative, while the emotional strings and low-end bass ebb and flow in the background. If you've been through any of this in your life, the vision and feeling are a lot clearer. Part of Savage Life Banks appeal is his aura of authenticity and relatability, which comes through loud and clear here. This is a somber and atmospheric song that is on-brand for Savage.
Things stay intense and raw on "Craccs In Da System", as Savage Life Banks dives into his rapping pocket here. He flows over a slow-burning production injecting bars filled with hard-hitting and brutally honest lines. The sonic template shifts the tempo up a notch on "Cookin' Up", which is layered with sprawling keys and skittering hi-hats. Here Savage Life Banks slides into his melodic rhyming mode, which is infectious to the ear.
"Bluetiful" forges a delicate and poignant backdrop, as Savage Life Banks unravels the depth of his storytelling skills, once again showcasing his set of multifaceted talents. On top of that, Savage Life Banks' vocals continue to impress. His deep and smooth voice bounces so well on "Birthday", which exemplifies his ability to use his voice in any context, and on any beat styling. It proves that his melodic, soulful singing works beautifully on this track without taking away from the EP's pace.
Savage Life Banks again hits the right chord on "Roccstar", with his own melodic brand of rap and hip-hop, awash with shimmering guitars and trap hi-hats. The rapper closes the EP with "That Bag", forging a moody, brooding flow which is brilliantly juxtaposed against the bright and mellifluous sound of the flute.
In a whole lot of ways, Savage Life Banks is creating better, more intuitive music, than many of his crossover counterparts. He has a clear and fresh brand that he has executed with more bold conviction than many artists in his field, and which is evident on "Still In Demand". Moreover, Savage Life Banks' ear for production also shines on this EP, allowing him to create a memorable project in every facet.
OFFICIAL LINKS: INSTAGRAM – SPOTIFY – YOUTUBE
Please follow and like us: