The artful and refined floral imagery on the cover of the single "Bloom", is a clear indication of the fresh, fragrant and colorful sweep of the music inside. I hardly need say that it simply oozes quality. Pure class from start to finish, the track ensures that multi-talented contemporary Gospel vocalist, Samona's star remains firmly in the ascendancy. Born in Oakland and raised in Sacramento CA, the eloquent songstress is inspired by her relationship with God, who has brought her through a plethora of adversities. The enigmatic singer-songwriter also uses her music as a vehicle to express her perspectives and tell stories. Essentially, her music runs deep with humanity, and the power of the grace of God.
Samona raises the musical bar on "Bloom", strengthening her own formidable songwriting skills to meet the challenges she places on herself. At the same time her faith and gratitude just keeps running deeper. "You make me bloom like a flower in springtime. I am growing everyday. You make me bloom, you nurture and care for me, and always tend to me, like a beautiful rose," declares Samona proudly. It's both a veritable testament to the singer's absolute appreciation, while also being a nod to her incredible musical savvy.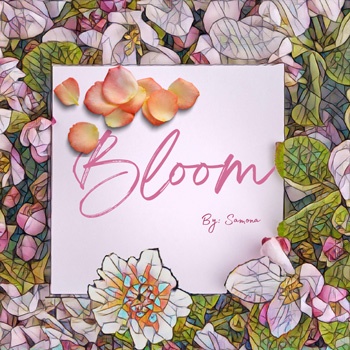 Samona's impressive musical range and undeniable charisma shines through "Bloom". She displays the kind of vocal immediacy and vulnerability possessed by few pop singers. Warm, embracing, and reflective, her voice brings a comforting joy, which is inspiring, affirmative, and universal in its appeal and intention. "Boom" is abundant with love, faith, gratitude, and wisdom. Moreover, it is delivered by one of the most persuasive and nuanced voices in contemporary Gospel.
The song is a testament not only to the power of Samona's personal faith, but also the possibilities of spreading that testimony of faith across the world. The singer lets her energy and commitment work towards spreading her compassionate message, in the hope of touching audiences worldwide. This is a time where a lot of great music is being released. "Bloom" is one release that certainly should not get lost in the shuffle, and not just because of the track record of the artist.
Her message is distinctive and clear. Samona takes listeners through her own worship and praise experience and exposes her thankfulness. As you listen, you will no doubt be encouraged to look deeper into your own situation and see the greater picture of your faith and belief mechanisms. The melody and vocals swiftly catch listener's interest, but the lyrics are what count here because that is the real message underneath the contemporary beat.
Samona has always been a great representation of what it means to be a Christian woman and artist, and this track only pushes that ideal even further. "Bloom" is a song of testimony that the power of God is strong and real. Whether we are observing the struggles of the world, or working through our own personal battles, the power of God is always ready and able to change our lives. The key is being able to recognize, accept, and acknowledge that power. Something Samona has already achieved.
OFFICIAL LINKS: INSTAGRAM – FACEBOOK – SPOTIFY
Please follow and like us: