Romajee is an American Artist who composes and produces his own music. Even though his music is considered to be in the hip hop genre, he has a peculiar style that is signed with his Latin vibe. With artist like J Balvin, Maluma, and Bad Bunny emerging into the mainstream charts, it's no doubt that Romajee's music is on the way to that level. Romajee, has always been a singer and rapper since the age of 6. He has just released his album "Romajee" available in all digital platforms.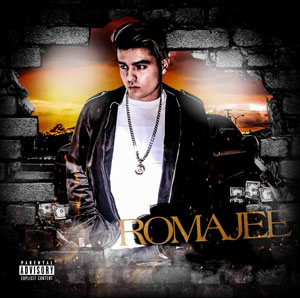 At a time when rap seems sometimes to be drifting aimlessly, lingering in the doldrums, along comes Romajee. It is fair to say that with his distinctive Latin-Rap blend he does rock the boat. At times it's enough to get lost in his syrupy and bouncing vocals while at other times his music is perfect for speaker slapping. Each song has its own idiosyncratic ability to somehow brighten the mood or make the listener look deeper into lyrics. Even Romajee narratives work as they encompasses the listener with just the right amount of voyeurism.
One thing that always impresses me with these new crop of hip-hop and crossover artists is the infectious energy that each one brings to the table. On "Romajee", the young artist implements a wide variety of voices and styles. His versatility is quite impressive, as he switches up his flows multiple times.  Time and time again, throughout this recording that seems to be one of his lasting strengths. The beats hit just right, the choruses comes in strong, and Romajee puts actual work into the verses. In a relative sense, he presents a sort of family-friendliness in his music that his peers lack.
The album is well tied together and has a unified sound, each song bringing its own unique feel to the recording. Romajee proves that he is efficient in aiming for a vibe in his songs and achieving it through both words and music.
Link to the Romajee album on SPOTIFY
Follow and Find out more about Romajee on INSTAGRAM
Please follow and like us: