Prepare to be electrified, as the dynamic rock duo BONNE is on the verge of releasing their highly anticipated album, "execute," on June 16, 2023. Brace yourselves for an 11-track masterwork that will ignite your senses and leave an indelible mark on your musical soul. "execute" takes us on a thrilling sonic adventure, seamlessly blending the best of old-school 80's rock/pop with the raw energy of 90's grunge. It's a breath of fresh air and a shock to the everyday musical system presently in place.  With Bonne Finken, a Midwest EMMY® recipient and three-time Independent Music Award nominee, at the helm as the vocalist, BONNE delivers an unrivaled level of authenticity and honesty. Finken's voice is an instrument of truth, resonating with passion and intensity, and capturing the very essence of their artistry. It's a voice that demands attention, drawing you into the world of BONNE with every lyric.
Joining Finken is the revered figure in Midwest music, Jon Locker, a recent inductee into the esteemed Iowa Rock n' Roll Hall of Fame. Locker's virtuosity on his custom BilT lead-bass guitar is nothing short of awe-inspiring. His contributions to "execute" elevate each track, creating a sonic experience that is truly unforgettable. Locker stands as a steadfast pillar, anchoring the album with his extraordinary talent.
The production of "execute" is a testament to the collaborative efforts of industry professionals. Bonne Finken, Jon Locker, and Micah Natera (The Envy Corp, Imagine Dragons) take the reins as producers, ensuring that every note, every beat, is meticulously crafted to perfection. Additional production by Kevin Bowe (Johnny Lang, Etta James, Kenny Wayne Shepherd, The Replacements) and Seth Luloff (Holy White Hounds) adds yet another layer of brilliance to the album, further solidifying BONNE's place among the rock elite.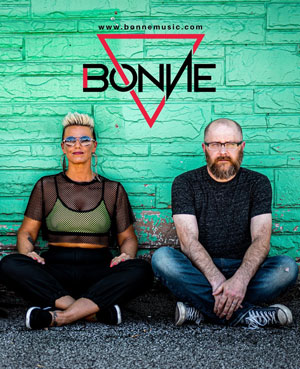 The album opens with the track, "Woman," a powerful and assertive anthem that challenges societal expectations and celebrates individuality. With its clever wordplay and rebellious spirit, the song's lyrics delve into themes of self-discovery, breaking free from constraints, and defying gender norms. This is followed by "Problems," an introspective and emotive song that unpacks the complexities of personal struggles and the desire to escape from them. Here BONNE explores themes of brokenness, fear, and the yearning for relief.
With unapologetic lyrics and gritty imagery, the duo go on to explore themes of mental health, societal pressure, and the internal battles faced by individuals, on "Inside Of Me." Through their powerful words, BONNE confronts personal demons and invites listeners to reflect on their own inner shadows. "Lovely" is an empowering and defiant anthem that celebrates self-expression and independence, with bold lyrics and a rebellious spirit. The crunchy guitars riffs and slapping drums form the perfect drop for the soaring vocals.
"Waste Of Time" revolves around the theme of individuals who observe from the sidelines, avoiding any risks in their own lives, while passing judgment on someone who dares to pursue their dreams. In essence, the song satirizes those who view creativity as "a waste of time" if it fails to yield financial gains or fame. On "Contender," BONNE delivers a powerful message of self-belief and the ability to overcome obstacles. It is an empowering anthem that celebrates resilience and determination. The rugged rhythm and twisting guitars drive the momentum with explosive energy.
"Feels Something" delves into the theme of emotional detachment and the longing for genuine connection in a world that often feels superficial and disconnected. The realization that one's worth is not defined by another person's presence is unfolded on "My Side," emphasizing the need to let go of toxic connections and move forward with confidence. This is followed by "I…Forgive You" which probes the complex emotions surrounding betrayal and the struggle to find forgiveness. The song rides on a relentless retro-futuristic template that is simply infectious.
The album moves to a close with, "Beauty In The Ashes," which is a compelling anthem of resilience and personal transformation. The lyrics depict a journey of self-discovery, finding beauty and strength in the midst of chaos and adversity. BONNE close this spectacular set with the groove-busting and bone-crushing banger, "Show Me How To Live." All throughout this album, BONNE's electrifying sound and genuine love for rock music will permeate through your speakers, enveloping you in a sonic embrace that will leave you breathless. This is more than just an album release; it's a revolution, a revitalization of the spirit of rock. BONNE invites you to join them on this exhilarating journey, as they execute their vision, their passion, and their undying commitment to the true essence of rock.
OFFICIAL LINKS:
www.Facebook.com/bonnebandmusic
Please follow and like us: