Independent Country Music Hall of Famer Richard Lynch and #1 Billboard charting artist, Ronnie McDowell have released their military tribute duet, "Love Tattoo." The single benefits veterans through Lynch's non-profit organization, the Love Tattoo Foundation – a non-profit organization that honors and assists the American Veterans who carry mental or physical scars, from serving the USA. Its mission is to raise money and awareness to help give these Veterans the opportunities they sacrificed, so that the rest of the country could have theirs.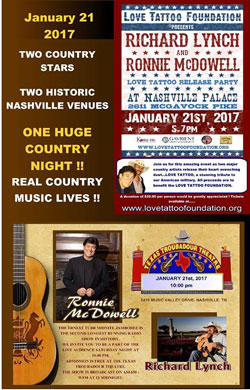 The track is also supported by a video, available on YouTube, which was filmed in front of a packed house during the single release party for "Love Tattoo" on January 21st, at Nashville Palace in Nashville, TN. This is one of the most honest, heartfelt tracks produced this year, one of the most human, and most touching.
Both Richard and Ronnie have voices that state 'they been there and know' – somewhat dulcimer to baritone, very manly tones, which can tell moral stories and make you seriously think of the consequences. When they sing, you won't leave unmoved.
As a fan of American roots music, blues, country, rock, jazz and the American story, this track gave me chills. It's not just a couple of men singing a song and a producer trying to get more music out of them. They really have a story to sing to us and you can hear the wisdom in their voices.
I love the classic production and instrumentation, and what Richard Lynch and Ronnie McDowell do best – tell the story of American people living, loving, suffering and believing.
I don't listen to a whole lot of country music, but when I do I generally like it un-distilled. There are a few C&W artists I like without reservations and then there are those who are enigmatic enough that you never know what to expect from them. Richard Lynch and Ronnie McDowell fit into both categories. One peek at the video and you'll see exactly what I'm talking about.
Ronnie McDowell has charted more than thirty Top 40 hits on the Billboard country music charts. Two of his singles – "Older Women" and "You're Gonna Ruin My Bad Reputation" — reached Number One on the country charts, while eleven more reached Top Ten. He has also released more than twenty studio albums.
Richard Lynch is an American country music artist, who has compiled a long list of country hits and chart toppers in the world of traditional country music. He is a multiple-award-winning artist and a member of the Independent Country Music Hall of Fame. His single, "A Better Place" topped the New Music Weekly AM/FM country chart, the IndieWorld Country Record Report, and spent an incredible 32 weeks atop the Roots Music Report True Country chart.
OFFICIAL LINKS: WEBSITE – FACEBOOK – TWITTER – CDBABY – YOUTUBE
Please follow and like us: