Rev GK is an ordained minister and Oneness Coach. He is originally from NY and is now living in New Hampshire via Los Angeles, Tampa, Fresno, Austin and Maine. He has been writing and playing since 1990 and has created 8 CDs since 2011 during this most prolific time of his life. Rev GK says his artistic influences are anyone that influenced Springsteen, Springsteen himself and anyone that Springsteen has influenced.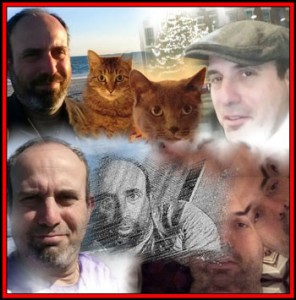 Containing sixteen tracks, "Reservoir" is the latest album by Rev GK. And this album has it all. Steeped in the spurious golden glow of our times, it covers many areas of being, heartache, visions, thoughts, love, and glimpses of pastoral idylls, all set within a hybrid of folk, country, and rock that is distinctively Rev GK's own. His voice is perfect suited to the tracks throughout, the harmonies sublime, the quality of recording simultaneously sparse and simple in a way that you never find on modern glossy, and overblown digital productions these days.
Rev GK's approach to recording seems to embrace the concept of contempt for fussy production and total emphasis on the melodies and lyrical messages. So regardless of the production values, the quality of the songs, show remarkable depth and artistic creativity.
Taken as a whole this is one very powerful and emotive album that deserves repeated listening. Tracks like, "Nothing Ever Happens Around Here", "Reservoir Of Love", "Swinging For The Fences", "River Under The Sea", "Love Is The Last Man Standing" and "This Town Wasn't Made For Love", get under your skin and embeds it's tunes and lyrics into your cortex.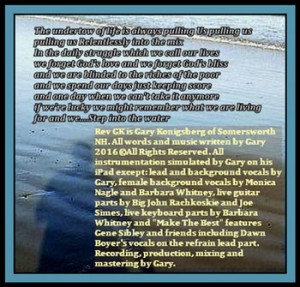 Regardless if this is style of music attracts your attention or not, the lyrics across these songs would be an inspiration for the generations of today and the future alike. Rev GK sings in his plaintive style and his vocals suit the themes of the songs perfectly. Are these songs Gospel-like or preachy?
No, not really, but it is obvious that Rev GK draws his personal inspiration from God, so many of his songs are infused positively with Christian thoughts. More than preach or force feed his ideals or beliefs on listeners, Rev GK seems to coax, entice and attract your attention to his themes, through lyrics which tell stories that are highly relatable to just about anyone.
Rev GK is not one for unnecessarily padding out a song, and this album demonstrates that. Rather, the man has a real gift for plucking great tunes out of the air, and setting them down to earthy, easy to understand lyrics, with an elevated spiritual impact – a gift displayed superbly on "Reservoir".
Follow, and find out more about Rev GK at his official website: www.revgk.net
Please follow and like us: