Red Tan is a young widow and single mom. Living in an unfamiliar environment while suffering depression and anxiety has been a challenge that she was able to put into music on her single "Don't You Dare!" It's an inspirational anthem meant to help others overcome their struggles and difficulties, and achieve their goals. In the meantime it has been a healing medicine for the singer-songwriter herself, helping her to become a stronger and better person. Red Tan's ability to create deep thoughtful music, her timeless voice, and her capacity to be so introspective, makes her extremely relatable to any sensitive audience. The song really capture her raw emotions and allow listeners to feel every lyric. The track is laid over an extremely harmonious beat, which is a perfect complement to her strong voice.
Red Tan proves her capability of crafting a beautiful mid-tempo pop ballads, but where she shines most here is in embracing the balance of her honesty, her sarcasm, and her courageous penchant for survival against the odds. "I'm am tough, you can't wreck me," she warns, before menacingly snarling "Don't you dare!"
The cutting wordplay that Red Tan uses to describe her metamorphosis and emotions across the entire track is so deeply relatable and so well-executed that you can't help but be inspired and thoughtful at the same time. One thing Red Tan has learned that usually takes other singer-songwriters a lot longer to pick up, is the value of honesty.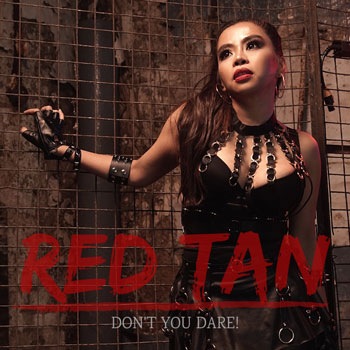 "Don't You Dare!" resounds with what seems like honest sentiments. Not just someone putting together a song to impress fans. She's singing from the point of view of someone who has been there. Red Tan is a singer-songwriter with a preternatural self-awareness, a distinct and capricious singing voice which goes from a whisper to a snarl, and an impeccable ear for melody.
Her music resonates because she is able to articulate her feelings and sensibilities so meticulously – with wit, tenderness, and brutal honesty. The song's production twist familiar sounds into captivating shapes, while her lyrics flit between dramatic, intentional lines of inspiration and the conversational truths of a journal entry.
The textures, nuances and depth of meaning go far beyond the initial listen. Listen, then listen again. A woman who speaks her mind, the exceptionally fierce Red Tan warns that you'd better not mess around with her, because she's not going to tolerate any other b.s.
Vocally anchored and soulful, her approach on "Don't You Dare!" layers powerful emotions, to weave something that is an epic slam into the feels. A woman who is at the forefront of being open, honest, sincere and blunt, Red Tan creates a stunning ode to battling our enemies and acknowledge the ability to be happy with ourselves, love, and life.
It's nearly impossible to find fault with anything the exceptionally talented Red Tan does on this recording, because she does it with such immense heart. A powerful piece that hits hard, "Don't You Dare!" is a poignant representation of all of Red Tan's regained strengths.
OFFICIAL LINKS: WEBSITE – FACEBOOK – INSTAGRAM – TWITTER – YOUTUBE – SPOTIFY
Please follow and like us: