PGB (aka Pine Grove Boys) is a singer- songwriter duo from the Alabama Gulf Coast. Two brothers who have always shared a close bond with one another and have had a passion for music-making. They began collaborating together in 2011 and are successfully moving forward to put Baldwin County, AL on the map.
Arkeem Stevens, known in the industry as "Keemy", is a multifaceted artist who raps, writes, sings, and arranges music, as well as putting his hand to producing, graphic design, and many other aspects of the music industry. Tibias Knight, known as "Ay Bias", is known in the group as the game changer.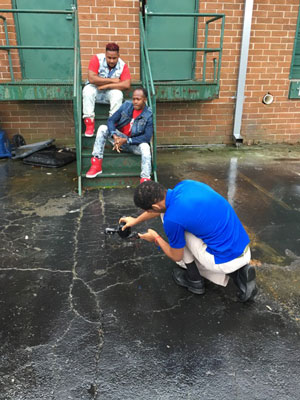 Ay Bias possesses the ability to quickly supply the word or phrase needed to take the song to a whole new level. PGB, who have done shows with Cash Out, The Last Mr Bigg and The Chimpz, among others, puts God first and knows that with His grace and presence in their lives all things are possible.
On their latest track, "Rock Wit Me", with an incredibly tight EDM beat, hard drums and a deep bassline, the Pine Grove Boys drop a couple of freestyle narratives about dance floor vibes. The beat is extremely energetic and simplistic, but purposely done to give us an original instrumental, that allows the boys to freewheel over the top. Featuring a banging bassline and drum loop, stripped down as low as possible, this is masterful production work by Fade Majah.
He purely gives the song an extreme underground feel, yet a strong commercial appeal, not to mention the good-vibe lyricism that matches it. Granted PGB are masterful with words, their delivery is strong and their metaphors, similes, and punch lines make sense. The sing-song choruses works well for them too.
At times the track actually sounds epic due to the loaded chorus chants. The remarkably good delivery, along with the duo's attempt to be creative and high-energy, are pretty convincing. I truly believe that the Pine Grove Boys are talented and loaded with potential. "Rock Wit Me" as a single captures the duo at an artistic peak.  Both men are able to mix muscled-up vitality in with well-defined rap skills.
Hiphop and music in general, just like movies is another form of entertainment. And certainly this track is meant to entertain. While many of today's emcees either ride on someone else's coattails to gain unproclaimed fame or consistently emphasize the idea of using powerhouse big name producers to keep heads boppin', but still leave fans with nothing to gain from their uninspiring and whack performances and lyrics, the Pine Grove Boys evenly and successfully cover all bases. Here they brilliantly showcase their phenomenal skills with unique style and wit!
OFFICIAL LINKS: ARTISTECARD – SOUNDCLOUD – FACEBOOK – INSTAGRAM – TWITTER
Please follow and like us: