The Matt Morgan bass sound, the Ben Carlsen rhythm guitar patter, and Mike Downey's funky drumming, generate a unique feel that serves the band Nerve Damage very well indeed on their latest single, "Love". They're unrepentant forward-thinkers, who try to write songs about what matters to them, and sometimes they're musically great, and sometimes they're lyrically brilliant, and most times they're both. Battling against the ever-smart lyrics on "Love", is a surprising amorphous musical groove with changing tempos. There's a rich rhythmic backbone overridden by an affecting melody and chiming, windswept guitar motifs.
Nerve Damage is an essential funk-induced alt-rock band, and "Love" simply sounds like an essential Nerve Damage track. It attempts to take you on a poignant, explorative psychological and emotional journey, and leaves you wondering about the meaning of lust and love.
Whether you can catch their message, depends very much on your mental attitude. Whether you can catch their groove, simply requires a pair of ears. "Love" has a clear sound and direction, which after a couple listens, becomes almost mesmeric.
There are a lot of sounds, rhythms and harmonies going on in "Love", which sounds like a cross between an organized, well-arranged rock song, and a full-on jam session filled with funk. And that's its absolute strength – there is no studio sterility to be found anywhere.
It all sounds like a colorful and vibrant live performance take, with sparks of creativity being ignited everywhere. This song is going to light the world on fire. There is something about it that is thoroughly enjoyable, something you want to savor which transcends your personal genre preferences.
There is a brilliance to it all for something which sounds apparently so simple in essence. That is because the execution of "Love" is spotless when the band breaks loose.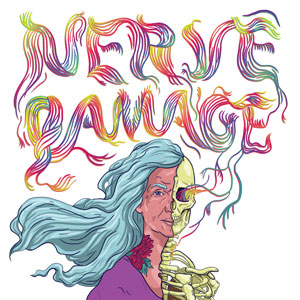 The track as a whole plays to the dynamics between the rapid staccato-like vocals on one side, and the pumping rhythm section on the other side, leaning heavily on the bass plucking groove, while still fostering an atmospheric sound.
At every turn there is an ardent creative spark pushing Nerve Damage in the right direction. Each bar represents a level of musical evolution within the band, and by the end of the track, you'll be convinced of their technical abilities too.
"Love" itself is no doubt a great single, and their newest musical foray into mixing funk alt-rock with jangling, melodic sounds has paid off handsomely. As such, the subtleties of the track could imply it's an artistic statement by the band to do something more all-embracing than their dirtier, grittier and punkish "The Free EP".
Either way, Nerve Damage has created something truly great with this song. "Love" is without a doubt, a fresher, more shimmering and catchy flavor of the Central Jersey band's core aesthetic, which was launched in 2016.
From bars, clubs, house parties, and dingy DIY basements, the "Love" sound is ready to take Nerve Damage to a whole new level. The band has kept its core grooves, riffs and lyrics, but are now creating songs that want to dominate the world. There couldn't be a much better way to do this, than by simply offering us "Love".
OFFICIAL LINKS: WEBSITE – ALL STREAMS
Please follow and like us: