If you want to be lifted up, encouraged or just want to enjoy inspirational music, "Put God First" by South African artist Mr. K (born Khulekani Nxumalo), is the album to listen too. It soothes, heals and comforts all at the same time. A qualified engineer, Mr. K decided to focus on his music during the Covid-19 lockdown period, and felt the need to spread the Lord's word to the world. From the outset, this recording features the elements that make the artist's songs suitable for praise and worship, congregational singing and for choirs – hooks that carry a message, resonates and are quickly remembered by congregates, and call and response that allow a lead singer to engage in a conversation with a choir.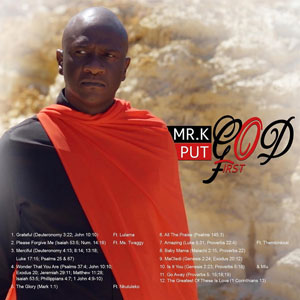 All throughout, Mr. K rarely strays from what appears to be his mission to encourage people to fight towards a positive outcome in their lives, which with God's help, may be nearer than we believe. The message is that God can heal one from unbearable challenges, and a general discouragement over the wrong turns life takes. Mr. K delivers his wisdoms with the confidence of someone who has extensive pastoral experience.
Mr. K's style delivers conversational, prayerful expression, while in the background sections of rich choral singing and expansive arrangements tinged with African musical flavors, as well as modern urban and dance sounds, collide in a joyous blend of variegated rhythms. From start to end "Put God First" showcases Mr. K's ability to speak to a new generation of gospel music enthusiasts with personal messages that offer ways to understand the grace of the Lord.
'Grateful (ft. Lulama) (Deuteronomy 3: 22: John 10: 10)' gets the album off to a superb start, with a celestial instrumental intro. While 'ear candy' and gospel music don't usually reside within the same sentence, the production has some awesome moments, as does the vocals.  Mr. K soon gets to work, doing what he does best – praising the Lord. Beginning with rhythmic poise, 'Please Forgive Me (ft. Ms Twaggy) (Isaiah 53: 5; Number 14: 18)' percolates into something even grander, chocked full of spirit, and an explosive vocal hook.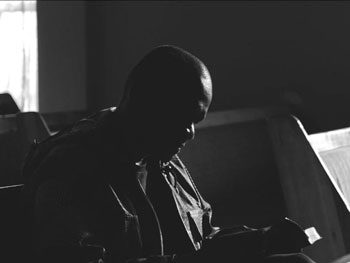 As can be gauged by the song titles, every song is inspired by a Bible verse, which Mr. K translates into layman's terms with his inspired insights. 'Merciful (Deuteronomy 4: 13; Luke 17: 15; Psalms 25 & 26)' is a beautifully melodic and soulful track with rich and catchy harmonies. 'Wonder That You Are (Psalms 37: 4; John 10: 10; Exodus 20; Jeremiah 29: 11; 1 John 4: 9-10)' moves deep into the traditional Gospel script, as Mr. K weaves his moving narrative against a backdrop of voices.
'The Glory (ft. Nkululeko) (Mark1: 1)' forges powerful African rhythmic tropes in a driving upbeat template. There's also the message itself, which is central. 'All the Praise (Psalms 145: 3)' flips the script towards funky electronic dance flavors. The lyrics are built for providing hope, inspiration, and peace, through acknowledging the grace of God. 'Amazing (ft. Thembinkosi) (Luke %: 31; Proverbs 22: 4)' brings more ethnic musical flavors and superbly executed vocals.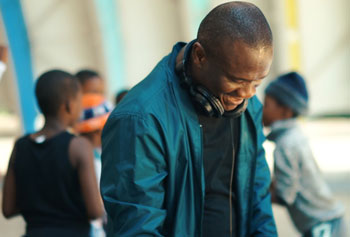 'Baby Mama (Malachi 2: 15; Proverbs 22)' has a smooth neo-soul and jazz foundation, with another display excellent vocal arranging.  Mr. K reaches even deeper on 'Maoledi (Genesis 2: 24; Exodus 20: 12)', truly making the listener feel the same, enchanted spirit he feels and performs with. 'Is It You (ft. Mlu) (Genesis 2: 23; Proverbs 5: 18)' is wrapped in a slower and tasteful R&B aesthetic that captures your attention. Adding to the excellent construction of the song, are the stunning vocals.
Gospel music is naturally filled with the spirit, meant to uplift its recipients.  The upbeat 'Go Away (Proverbs 5: 15,18,19)' packs the same punch, giving the listener the utmost hope and conviction. The album closes with 'The Greatest of These is Love (1 Corinthians 13)', which gives us lesson in love. Here Mr. K once again locks into genuine praise and worship. The album's message is clearly about affirmation and declaration, as Mr. K uses his music to spread his faith to the masses. The songs on "Put God First" will refresh, encourage, inspire and uplift.
Connect with Mr. K on IG and Twitter @mrk_pgf, and on Facebook @Mr.K Put God First
Please follow and like us: