Mflux & The Bass Rangers have dropped the track entitled "Fischkopf", featuring Keiku. Now I bet you're thinking, "Where's the news in that?" Well firstly, Mflux & TBR are from Germany and the US respectively, while Keiku is from Japan but resides in the US. But that's not the big thing either. What is, is the fact that Mflux & The Bass Rangers dabble in a hybrid mix of EDM, Country and Techno. This is the stuff many dancing dreams are made of.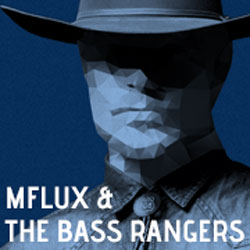 It's a fact that club DJs and Producers have known for years, and that Nashville record labels have been eagerly working to bring to the mainstream. Remixing and mashing up songs is nothing new, but Country is the latest genre to discover that behind a thumping techno beat sits a lucrative opportunity to breathe a second life into songs by turning them into dance tunes.
While pop versions of country songs have been around for years, producers say that blending elements together for an EDM mix of Country-based music presents a different challenge. It's about adding more accelerated dance beats, drums, keyboards and electronic sounds — every process is different, but it's critical to have a guitar track and melody to maintain the Country root of the song.
Therefore the Country-dance or Americana influenced dance concept is expanding from nightclubs to bigger concerts. And among those not surprised by this trend is Mflux & The Bass Rangers, who have already celebrated a string of their very own EDM releases based on the Americana music idiom.
Among them, mixes like "Disco Bunny", "Yumi", "South A Muffin" and "MEME Darkstar". Of the various Mflux & TBR releases I heard, "Fischkopf" is the most guitar-based mix of the bunch, and therefore probably the grooviest and most addictive track they have done this far. It also shows the extent of their music production ability.
No doubt, "Fischkopf" further establishes Mflux & TBR as versatile EDM artists who are capable of branching into other musical territories. Their style sets them apart from the run of the mill hum drum stuff out there. "Fischkopf" featuring Keiku, will have any Electronic, Country or even Pop music fan on their feet.
Today there is such a variety of contemporary musical evolution present, especially in EDM, and Mflux & The Bass Rangers represent the best part of that rank and file. Their music is far reaching and I expect it to go further.
OFFICIAL LINKS: Mflux & TBR FACEBOOK / Keiku FACEBOOK
Please follow and like us: