Malvin Éka is a singer-songwriter born and raised in small city Mojokerto, Indonesia. Malvin moved to Jakarta and started his day job as an Information Technology Developer. He has since discovered his love of music and began to hone his craft in songwriting, which then led him to release the singles a "Can You Feel What I Feel" and "Battle of My Own" as well as his upcoming debut album. You will love Malvin Éka's laid-back vocal styling. He's an original and you'll never get him confused with anyone else. So many singers today sound exactly the same with all the auto tuning. James can sing, but he does so without forcing the pace or the intensity.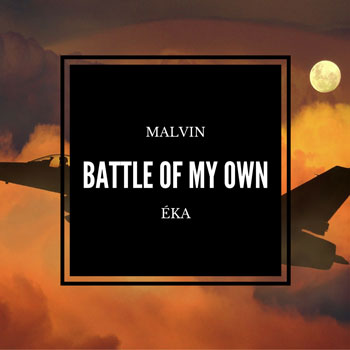 "Battle of My Own" is truly an enjoyable and powerful song, without being loud or overwhelming.  It creates an extremely captivating experience for the discerning listener.  Initially, this track will seem like a nice little bop to enjoy, but a closer look at the lyrics will make you realize the deeper heartfelt subject matter Malvin Éka is discussing.
Sure the song could be made even more explosive if the vocals soared more loudly above the music, maybe backed by full harmonies, in the usual cliched pop style. But I think Éka's choice to do the song in a vocally comfortable way, was a good one.
As he moves forward with more releases, he will eventually grow in confidence and expand his vocal style and overall depth of arrangement, as many singing celebrities have done before him. At which time we could expect more challenging performances.
Malvin Éka definitely has a softer side as an artist, which is showcased in "Battle of My Own". This allows for the song to have a mixed bag of raw emotion, soulful vocals and sensitive lyrics by the artist.
The rich piano notes gracefully open up the track then slowly builds up while showcasing the smoothness of Éka's vocals. Not only that, but listeners will find that they will grasp the moment where they will actually feel the emotions of the song and how empowering Malvin Éka's performance is.
Overall, it is clear that Malvin Éka is definitely a talented songwriter and able performer who is working towards putting the necessary polish and luster to his craft. He definitely has a strong, emotional side that people will appreciate, noting down his all-round performing and songwriting abilities, as well as creative flair that will help in his ambition to be a noteworthy artist in the long run.
STREAMING: ITUNES – AMAZON – SPOTIFY
OFFICIAL LINKS: WEBSITE – FACEBOOK – TWITTER – INSTAGRAM – YOUTUBE
Please follow and like us: