Mallika Mehta who sings both in English and Hindu, has been singing since the age of 6. In 2014, she undertook training with the Voice Academy, NYC, and also attended a 5 week summer program at Berklee College of Music, Boston in 2016. In that same year, Mallika performed her official debut concert, entitled "Rhythm", in front of an enthusiastic crowd in Mumbai. Subsequently Mallika was also invited to open a concert for Kailash Kher, the Indian pop-rock and Bollywood playback star. Mallika Mehta's first ever English single "War Solo" was released on 21st November, 2016. The song was recorded at the VOA Studio, Port Washington, while the Recording, Mixing and Mastering were done by Robert Nolfe.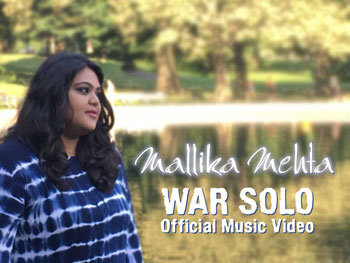 Crisp, poignant, vulnerable, melodic and soulful, you can tell Mallika Mehta and her production team crafted this track carefully because such attention to detail is paid. Personally I haven't seen songwriting of this caliber in popular music in a long time.
She is a throwback to a time when artists wrote poetry to music which people could relate to in their own lives, making "War Solo"  a, in my opinion, an instant classic. The song has a wistful and gently pulsating landscape carved out by the piano and string builds.
"War Solo" has the kind of chord progression and verse-bridge-chorus structure that will give you goose bumps the first time you hear it. The heartwarming and deeply personal lyrics also helps Mallika Mehta take you on an intimate journey with her.
This is the song you put on and reflect to. The kind of track that helps you garner inspiration and ultimately, helps you heal from romantically inflicted wounds. She chronicles the emotions of a relationship and how we give ourselves to another and we expect the same in return.
It's so refreshing to hear a young talented artist, on her debut, delivering a convincing and mature vocal performance, rather than a singer with a distorted voice, practically naked in some demented music video. Mallika Mehta is the kind of female artist that refreshes the music industry with a breathtaking voice and a song that you can play loudly and proudly without cringing because of derogatory language.
Mallika puts passion and love into every word she sings. Her song composition and her artistic expression are enigmatic and inviting, and will capture the fancy of many pop listeners across the globe. It's a sound that can knock you out with its power and warm your heart with its sensibility.
After more than a decade of obtuse, intelligence-insulting blather from mostly unintelligent scam artists, it is almost miraculous that we find a pure artist such as Mallika Mehta knocking at our door. Ladies and gentleman, it is time to open that door, so that she can receive the success she so rightly deserves!
OFFICIAL LINKS: FACEBOOK – INSTAGRAM – YOUTUBE CHANNEL
Please follow and like us: