Let's be honest, much of pop music nowadays has been missing that lasting effect on the soul. Listening to current music hits may captivate you in your first listen, and you may continue to enjoy it later only because all of your friends do. However, it seems that not too long after the endless replays on the radio, you forget the song and move on to the next hit. The single "Broken Hearted Days" by Luis Marte, however, is a song that will stay with you. Lyrically and musically, it makes you feel something. It's like eating that delicious chocolate éclair that melts in your mouth, making you want to devour the entire platter. Marte's voice, just like that éclair, melts with the sweetness and smoothness of whipped cream, too.
Luis Marte has been around the block within the music business. An artist, songwriter, music mix engineer and producer, he got his start in the early days of Artistik Recordings as a member of the Freestyle Duo "On2" who went on to record classic singles and ultimately an album entitled "Can We Go Back" on AVP Records. He went on to form the boy band Strange WayZ – recording multiple singles and landing with Hollywood Records (A Disney Company). They toured with 98 Degrees and starred in their own Disney Channel Special alongside Enrique Iglesias.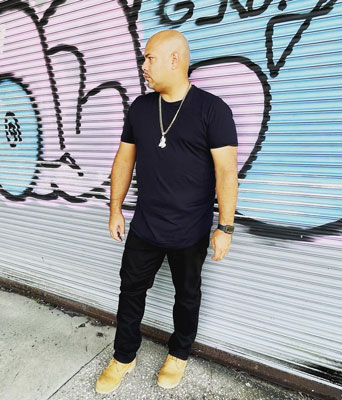 Once the Latin explosion and Boy band phenomenon faded Luis founded his own production company – Luis Marte Music, LLC. – and began writing and producing songs behind the scenes. Today he works closely with many popular Dance artists, including TKA, Giggles, Nyasia, Andy Panda, Tony Moranworks, and pens songs for some of your favorite songs charting today. However, Luis Marte still finds time to work on, and release his own solo material, like his latest release, "Broken Hearted Days".
"Broken Hearted Days" is fresh yet timeless. The production is phenomenal, and the lyrics dealing with the intricacies of love lost and found, reflect his both his musical and life experiences. Not only is it a track that sounds so good, it is a smart song with impressive depth. Luis Marte is not only a confident and precise songwriter – duties which he shared with Rayniel DelValle on this song, but he is great singer, getting to the core of the song with his delivery based on substance more than on glossy fluff.
Luis Marte's talent is evident on "Broken Hearted Days". Backed by a gentle and clean guitar, as well as atmospheric pads, Luis breaks down his actions: "We wake up every morning with the sun in our eyes. Turn around and see you face and I realize. I'm in awe of your love and we know, we stand tall like hi-rise. I get up to make the coffee how you like. Run your bathwater checking temperature is right. We would sit to enjoy the sunrise. Paradise."
And then he drops the bomb: "I wanna know how it feels to be loved. And baby I know I'm asking for much cause I'm tired of the broken hearted days. Time to find a way to make a change." The lyrical specificity is as profound as Luis Marte's unflinching investigation of his sentimental situation. The emotion of the song feels authentic and real. Luis' internal core, from which his emotions arise, is unfolded and laid bare, but without ever being overwrought or overwhelming.
Luis Marte fits the song naturally, with its superbly building instrumental. "Broken Hearted Days" is proof that Luis' ear for a pop song, combined with his wealth of experiences and influences, means that he continues to inhabit the upper echelons of accessible songwriting, production and performance.
OFFICIAL LINKS: WEBSITE – FACEBOOK – TWITTER – INSTAGRAM – STREAMS
Please follow and like us: