Lina Fouro is a singer-songwriter from Toronto, Canada, who has gained major awareness for her electro-influenced pop sound. Lina's debut album, `The Love Cycle`, was largely produced by Juno-Award Winning Producer LONNIE SZOKE (who has worked with the likes of Drake, Beyonce, Little Wayne and Sizzla).  The album followed Lina's highly successful single and video release, "BOOM" which aired on MTVU and MTV.com and The Cool TV.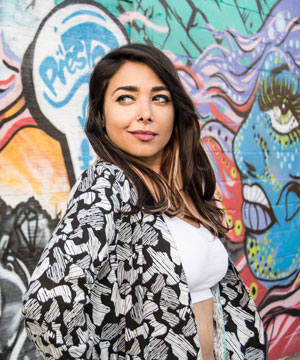 Lina Fouro has now released her Dancer Version of her original single "Bang Bang Baby".  She has already done a radio interview on 7/8/2016 with CIX 106.9 FM The X and is slated to do another with 88.9 FM The Cube. "Bang Bang Baby (Dance Version)" is released by 3 Shots Productions.
Lina is one of the most underrated talents in a very long time. This girl is the real deal. If you are on the fence about this single, seriously, pull the trigger. You will be glad you did.
There are some voices that just grab hold of you the moment you first hear them. Lina's breathy and sexy delivery easily falls into that category – it light, its silky, it's smooth, and sharp enough to cut like a razor blade.  The clean uncluttered production pushes her airy pitch-perfect vocal instrument front and center where it should be.
The result is irresistible crossover Pop-EDM, and a killer hook, perfectly produced.
What is so impressive about Lina Fouro on this recording and pretty much everything else she does, is how everything fits together so well as she morphs from Contemporary Pop to full blown Edm. And throughout it all we never lose Lina's smooth almost playful singing style.
Partly because she never loses her sense of pure enjoyment of the music she does – and secondly, because her non-abrasive voice fits any style like a glove.
As has happened on her previous releases, on "Bang Bang Baby (Dance Version)", Lina Fouro has your attention, brings you in and then never lets you go. Her vocal artistry makes her very easy to enjoy and has me already looking forward to her next release.
OFFICIAL LINKS: WEBSITE – ITUNES – FACEBOOK – TWITTER
Please follow and like us: