Los Angeles based singer-songwriter Lexxica is set to release her follow up EP this spring. Her productions cross a wide range of EDM styles – house, indie-dance, electro, and dubstep. Following up on last year's  debut EP "Only If You Want" , Lexxica quickly went back in the studio, working with renowned vocal coach, Kim Wood Sandusky (Beyoncé, Kelly Rowland) and Grammy nominated producer Rusty Varenkamp to polish her sound for her forthcoming EP, due out this spring.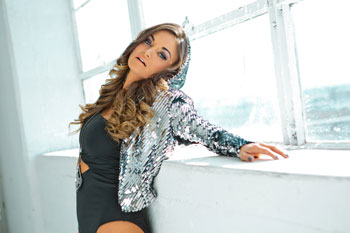 The lead single "Hello Friday", which Lexxica co-wrote with Varenkamp, was released February 2016. Two additional singles from her forthcoming EP will be released this spring along with accompanying music videos. The music of "Hello Friday" enters you so easily that you your body starts to move to the song. Then the lyrics start and it takes you to the unencumbered places Lexxica sings about.
She has a crystal clear voice that, instead of getting lost and overwhelmed by the music, actually infuses it with greater life. And this track is the latest example of that strength. It is a song about the wonder and joy of losing yourself in dance on a Friday night. The verses, chorus and bridge all hit the right now as "Hello Friday" builds towards a powerful climax.
"It's an endless sea / Energetic beats / Fade into the lights and we'll let go / Do what we want / The pressures gone / And we feel alive out here tonight / We're wide awake / This is where we want to be / We're not afraid cause we're living wild and free."
Apart from being quite lyrical, the song is also high energy, so besides it banging at the club this could easily be slipped into your Mp3 playlist to inspire your treadmill workouts. . "Hello Friday" is a fantastic example of how good dance-induced pop music can be – strong lyrics, nice electronic rhythms and synthesizers, as well as a killer melody.
Lexxica has a distinctive sound and presentation. There are so many female artists in the EDM/Pop genre of music and yet Lexxica definitely stands out as one who delivers fresh new vocals and sounds in this category. She doesn't go over the top to try to be different either; she's just naturally different and very talented.
She truly tries to stretch the meaning of her music with a stylistic and creative approach, by blending the melodic musicality that makes her so special, with hard hitting beats and triumphant uplifting qualities that color all the lines and make "Hello Friday" so inspired. Hopefully, Lexxica will gain more traction with this release, so that by the time her new EP arrives, she'll already be in full momentum.
OFFICIAL LINKS: WEBSITE – FACEBOOK – INSTAGRAM – AMAZON – ITUNES
Please follow and like us: