.Lenntastic. was born 1991 in Hamburg, Germany. His love for Hip Hop began early in his childhood days listening to the likes of 2Pac, Ice Cube, Snoop Dogg, Eminem and many others. Now he is a Rap artist who wants to change the game with his unique style. The name .Lenntastic. is a gift from his friend HarryGo, who passed away. His 12-song project ".Quaraptäne." demonstrates his musical flexibility throughout each track, while also maintaining the unusual sound that he is admired for. Apart from a few tracks and some interludes in English, the album is for the most in German. This may take away from appreciating the lyrical depth, if you can't grasp the language, but it allows you to concentrate on the rapper's technique and flow.
From my, on the spot translations, it seems that each track on the album tells a story filled with hard bars, clever punchlines, many unique flows, and displays the versatility of .Lenntastic. The song ".Intro." is the first track on the album and opens with a spacey futuristic sound. With influences of psychedelic and trap-like hi-hats coupled with dynamic vocal changes, .Lenntastic. shows his fluidity and desire to explore different soundscapes while keeping his music unique and very different from the rest.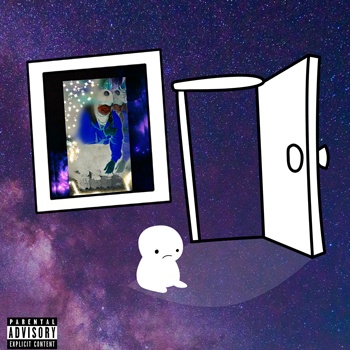 ".DDDance." showcases the .Lenntastic.'s disciplined vocal punctuation as he flows on top of an exotic Eastern flavored beat. He is joined by Mejosky and Sleep on the track ".Fledermaus.", where his voice delivers more nuance and emotion. This is a song that definitely needs to be checked out when you listen to this captivating project. With an insistent and catchy flows .Lenntastic. makes sure that ".Tarantino." is a track that will stick in anyone's mind long after the song is over.
".Tropical Fruits." uses a soulful sample to set an impacting mood, as .Lenntastic.'s raps cut through the beat. He continues to build his style of musical artistry while also being unafraid to experiment and explore the world of music in his own way.  ".Floatin." ft. Sleep throws in a couple of English verses which develops on a mesmeric beat, while ".Sky Is The Limit." brings in a female sung hook and eerie keyboards which add an extra dimension to the sound.
".Spaceboy&Spacegirl." starts with jangling picked guitars before .Lenntastic. settles into the track with a conversational tone. ".Worldwide." ft. Starius delivers a handclapping beat and a quick-witted flow from .Lenntastic. who doesn't miss a single word. When I think of good rap, my first thought is good beats and nice flow. But immediately after that, I want to hear stories. These elements raise rap to the next level. It's clear from this album that .Lenntastic. strives to deliver those things.
The title track ".Quaraptäne." takes us back to a raw soul sound and another free-flowing set of rhymes from .Lenntastic., who is again joined by Sleep on the banging ".I Don't Get Tired. – Remix". The album closes with the futuristic and cinematic beat on ".Outro." where .Lenntastic. gives us another display of his technical bravado. With this uniquely distinct album .Lenntastic. has begun to build an incredible discography full of fresh and diverging sounds that will continue to keep fans hooked onto his every music release.
OFFICIAL LINKS:
Instagram: _Lenntastic_
YouTube: _Lenntastic_
Spotify & all other platforms: .Lenntastic.
Please follow and like us: