André Weekes aka AndiDred (drummer/keyboards/singer/songwriter) was born in England and grew up in Barbados. In 1980 he came to Germany from Barbados to join the band Raven,
which played on the American circuit from 1980 to 1983. In 1983 he played with Herbie Hancock Band percussionist Bill Summers. From 1984 to 1986 he played with the band Eruption.
From 1986 to 1989 André Weekes traveled to Switzerland and formed the band Ujima, which played opening acts for Burning Spear, Lee Ritenour, Dave Grusin and Jimmy Cliff. During this time, he met and played with a Latin funk band, Jon Otis and The Box, and also toured with Billy Hutch and Pablo Moses.
In 1989 he returned to Germany and then played with Darnell Summers from Detroit in the band The Criminals and Afrodisia, 1995 with the Dub Invaders, from 1995 to 1997 with Hans Söllner and 1997 to 2004 with Wally Warning. From 2004 to 2012 he founded the group Afri.Ca.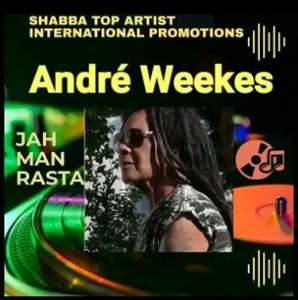 In 2009 he recorded the CD MA3D with Mike Klement from Klement Studios. He also released the single "Peace" followed by the single "I Can't Stand Da Pain". The EP "Love is the Answer" followed in 2012 under the name AndiDred and DiBaba.
In 2014 the video for "Sayrah" was released. André has also recorded the following singles: "Mr. Lonely", "Breaking Up", among many others. André Weekes Aka AndiDred is currently on radio rotation with the single "Jah-Man Rasta" written by American songwriter Cindy H Nene.
OFFICIAL LINKS: WEBSITE – FACEBOOK – YOUTUBE
Please follow and like us: