Joe Lecrivain is a singer-songwriter born and raised in Los Angeles California. Joe has released his 4 track EP entitled "Sing Along". We all go through those periods when we look at our entire music collection and are pretty tired of what we see. We know we need a new recording to freshen up our collection as well as restore our faith in music. Joe Lecrivain's "Sing Along" hits the spot. Joe Lecrivain is a singer-songwriter born and raised in Los Angeles California, who has released just his 4 track EP.
As a songwriter, Joe has a very unique perspective. Each track is well polished and beautifully worded. His sound is that of shimmering folk and alt-pop, without the computers. His melodies are graceful and catchy with an underlying rawness, while his voice has a similar – but slightly deeper tone and timbre – to Dave Matthews. His tones are both profound and reflective. Invoking emotions that you forgot voice and song could still do.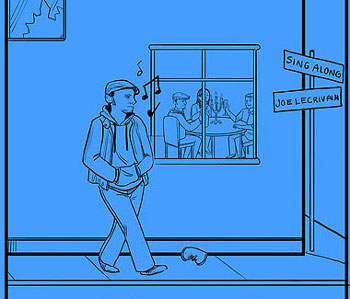 Another notable thing about Joe Lecrivain is his lyrics. They are insightful and more than words that simply rhyme. This is not something that can be said about every artist who is popular at this time. Sure, the music might be good, but sometimes when you really listen to what the artist is singing, it either doesn't make sense or is not interesting. So when listening to "Sing Along" it is great to sit down and enjoy the lyrics as well.
At the end of the day however, it is the emotion in Joe's voice that communicates all the convictions that he sings about, and then some. Aside from the usual woman-worship lyrics found in acoustic balladeers like the aforementioned Matthews, and which Joe forges on the groovy mid-tempo track "Firefly", he also turns to impressive storytelling to show his amazement in the human psyche on "In My Skin".
The words themselves are simple, but strung together as Joe does, they are surprisingly new and definitely evocative. The best song on the EP for me is probably "Simple Problems", which has some great guitar strumming and picked lines. Joe's voice starts off smooth and melodic before soaring into emotional raspiness. The song is almost addictive, because of the voice and lyrics that draw you in, and the guitar riffs that keep you captivated.
Joe Lecrivain really is a great performer – as good as they come, and he's got real soul which he unpacks exquisitely on the EP's title track, "Sing Along". In sum, this EP is a fantastic collection  of songs by a songwriter who is voicing his own doubts and wisdom through music.
It is honest in its appeal, and its easy-listening qualities make this recording the perfect driving companion, as well as great background music for relaxing and just connecting to Joe's narratives. Joe Lecrivain's acoustic-based music is something special in today's market of pop music and angst filled music. His music pulls back to basics – great guitar, great lyrics and heartfelt singing!
OFFICIAL LINKS: WEBSITE – FACEBOOK – TWITTER – INSTAGRAM – YOUTUBE
Please follow and like us: