There are few irrefutable facts in this world, but here's one: Jo Oliver does not make bad records. He set the bar high when he first crawled out of the backwoods of his long and illustrious career to release his solo single "Shine On (You)" in 2017, and then his follow-up "Respect, Don't Panic" in 2020, on all digital platforms. His latest single, "Isolation (Has No Good Vibration)" doesn't bust that winning streak. In fact, it's up there with the very best records Jo Oliver has released. It's punchy and wise, groovy and hard – it throbs and hums like an electric cable on fire. The award-winning multi-instrumentalist, Jo Oliver has been making a living from music for many years. He studied guitar, played in many band-projects and gave guitar lessons, made jingle productions and even wrote editorial articles for music magazines.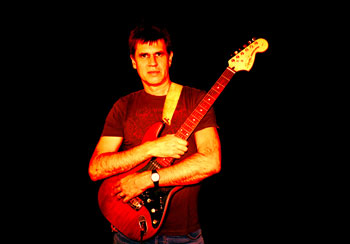 The Berlin based artist has written, composed, arranged and produced songs for various artists and contributed to many different music productions, as a songwriter, studio-musician, arranger and/or music producer, achieving chart placements in the process. He has come full circle with his craft.
Jo Oliver hit on the killer funk, rock and soul formula, a long time ago, and has been tweaking the dosage ever since – one part fuzzy rock, one part hardcore rhythm, one part tight-butt funk, and one part street-corner swagger.
This time around, Oliver has majored on the rocket-fueled drive and grit, with screaming guitar solos and crunchy riffs. On top, he has thrown in some abrasive and anthemic vocals to drive the momentum into a euphoric state.
Jo Oliver is the magnetic center of "Isolation (Has No Good Vibration)". He has the mind of a beat poet and the voice of a rock n' roll front man. "Isolation has no good vibration," he bellows on the track, in an explosion of fuzz and wordplay that floors the pedal and watches the cloud of dust recede in the rear-view mirror.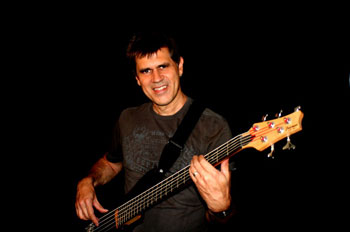 If any other rock artist had made an organic track this great in 2022, the world of rock n' roll would have tilted on its axis, but it's Jo Oliver we're talking about, and this is what he does without fuss.
Jo Oliver simply isn't another sheep in the flock. His raw and pure approach to his funk-rock aesthetic makes him stand out. If you have previously hopped onto the Jo Oliver train, this will be the same enjoyable ride that you've come to expect, if not better.
He is able to keep an entire track, dynamic and consistently captivating front-to-back. "Isolation (Has No Good Vibration)" is further proof of Jo Oliver's high quality standards, as it is chock-full of mature songwriting, playing and singing. Considering of course that Oliver plays all the instruments and does the singing himself.
Released on March 11th, "Isolation (Has No Good Vibration)" not only stomps and cracks the whip musically and vocally; it also showcases gold standard engineering and production.
From composition to arrangement, and recording to production, Jo Oliver is a fiercely independent creator who does it all by himself. Making this new single an admirable release indeed, and one that certifies all of Oliver's skills, talents, thoughts and ambitions.
"Isolation (Has No Good Vibration) was inspired by the stories of people suffering due to isolation, slipping into loneliness, and depression. The decisive factor for Jo Oliver to record the track was ultimately the case of a relative living abroad, who died in a situation of isolation.
"It is important that our empathy applies to all people who experience suffering," says the musician. Explicitly including the people in Ukraine who have innocently fallen on hard times due to the war.
OFFICIAL LINKS:
Artist Homepage: www.jooliver.net
Jo Oliver – references & awards:
https://www.jooliver.net/deutsch/über–mich/referenzen/
"Isolation Has No Good Vibration" Video-Snippet 1: https://www.youtube.com/watch?v=t50X_fSN5fQ
"Isolation Has No Good Vibration" Video-Snippet 1: https://www.youtube.com/watch?v=t50X_fSN5fQ
"Isolation Has No Good Vibration" by Jo Oliver – Songlink – all Download- & Streaming-Stores:
https://song.link/i/1611006788
Musicvideo of "Shine On (you)":
https://www.youtube.com/watch?v=Wl6E69Xi0Xg
Jo Oliver on Spotify:
https://open.spotify.com/artist/4pQ4IhvzyjHkJzl2X7rwVP
Facebook Artist Profile:
https://www.facebook.com/Jo.Oliver.artist/
Instagram Artist Profile:
https://www.instagram.com/jooliverartist/
Twitter (let you know about new artist releases):
https://twitter.com/joolive88941904
Jo Oliver on the Ranker's list "best Soul Rock bands & artists":
https://www.ranker.com/list/soul-rock-bands-and-musicians/reference
Jo Oliver reviews & features:
https://www.tunesdayrecords.eu/produkte/cds-naturger%C3%A4usche-k%C3%BCnstler-cds/jo-oliver/
Video Snippet on Facebook:
https://www.facebook.com/Jo.Oliver.artist/videos/1374489969630357/
Please follow and like us: